Bobby Bajwa's track Mannat released 
He used lockdown judiciously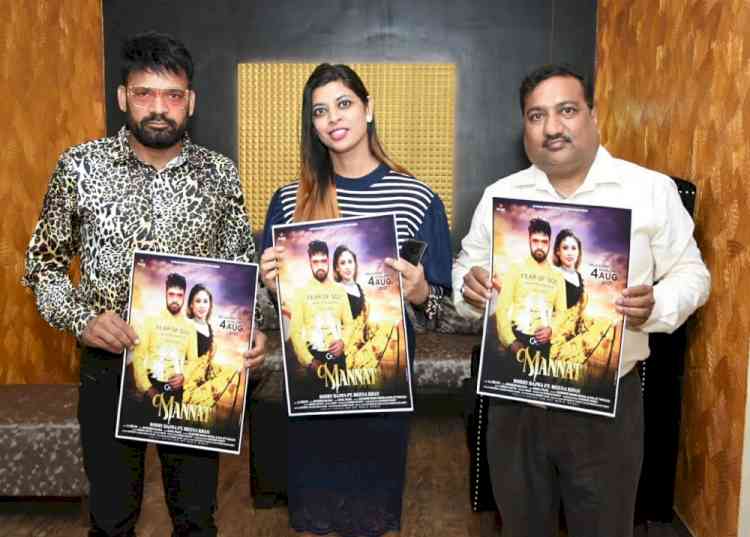 Chandigarh: On the one hand, the Punjabi film industry suffered a lot in the lockdown, while on the other hand, many creative artists associated with the Punjabi film industry took advantage of this and prepared a new project. One of such creative artist of Punjabi film director and singer Bobby Bajwa. Who did a lot of work with his team in the lockdown. Bobby Bajwa was at Own Spa in Manimajra to release the poster of his new track Mannat.
Bobby Bajwa said that his new track Mannat is a romantic track. The lyrics of this song are splendid as well as the track has been shot in beautiful valleys. This track has been launched on YouTube channel Satrang Entertainment. He said that he is hopeful that this scintillating track will set many records. It is being liked a lot by the youth as well as other sections.
Bobby Bajwa, who has become famous with tracks like Bambi, Branded and Love, said that he is directing a Hindi film. He told that his career started with the play Mitti Da Bawa. After which he was recognized in the film industry.
He said that undoubtedly many famous singers have become heroes in Punjabi films, but his focus is more on their singing and direction. He said that he does Riyaz daily for singing. He was accompanied by fashion designer and astro-numerologist Guneet Kaur and Reiki Grandmaster and Tarot card Reader Satinder Kaur for the poster release. On this occasion, Bobby Bajwa said that Own Spa is a great spa. He said that the importance of spa has increased in the midst of the life of the race. He told that the atmosphere of the own-spa is absolutely wonderful.