Blue Parrot, a two-day lifestyle show kicked off in the city
Pinky Reddy and Padmaja Reddy inaugurated the show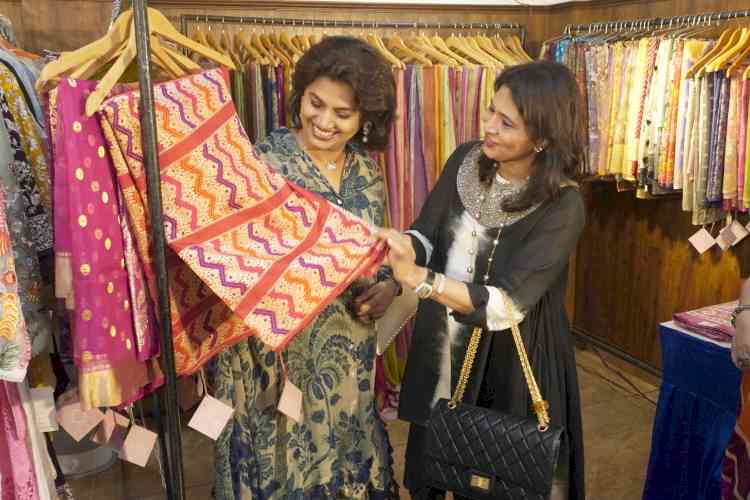 Pinky Reddy and Pajmaja Reddy seen checking designetr collection at the Blue Parrot, two day lifestyle show.


It showcases works of some rare art forms such as Pichai, Bandhani, the oldest art forms of India
 
Hyderabad, October 7, 2022: The first edition of Blue Parrot, a fashion exhibition of unique nature is opened in the city today at Kshetra Gallery in Somajiguda. It will continue tomorrow 10am to 8pm.
 
Interacting with the media Heena Shrivastava and Neeru Wadhwa, two city's well known personalities behind curating the show said, it is a unique show in many respects.  Most of the exhibitors are first timers.  They are all achievers and well known for their work.  There are award winning artists, fashion designers.  Over 30 exhibitors from across India are showcasing their works.
 
One of them includes Mukul Joshi from Jaipur. He comes from a Phad painting family. Phad is a style of religious scroll painting and folk painting, practiced in Rajasthan.  He is exhibiting Pichai paintings. Pichai paintings are works of art that are used to adorn the walls of temples, behind the idol. This style of painting is traditionally done on a long piece of cloth or canvas.
 
I have brought here about 100 pieces of paintings. They range from Rs 2000/- to five lakhs. Vishwaroop of Virat Som painted in 24 carat real gold which is in the size of 4x6 feet, took him two months to hand paint. It is the costliest painting on display. It costs Rupees five lakh.
 
He is a National Award-winning artist and a gold medallist for UNESCO.  Pichai is a 700 years old art form.  He is a seventh-generation artist. Pichai painting of Rajasthan particularly stands out for its unique history, origin, and the efforts put into its revival.
 
Another participant is Dr. Shubhra Goel, celebrity oculofacial aesthetic surgeon, who is amongst the top 10 women surgeons in India with honours across India.  She is an Eye and Face Specialist and founder
 
The Trunk Story, the clothing brand that focuses on 'giving a second chance to clothes'. Re wearing is caring, it says.  At the trunk story our clothes not only look good but also make you feel good.
 
The designer duo Camelia and Shelina who create unique handcrafted pieces inspired by the various cultures around India will operate from Mumbai and showcase their creations across the world showcased their unique designs.
 
Taropa by Archana Bhushan showcased handcrafted, beautiful, handmade clothing.
 
Rachita Parekh's Dyelgoue exhibited its unique craft work of 'tie & dye'. The fascinating craft of 'tie and dye' which was restricted to sarees and dupattas used mostly in weddings and festivals have got a  fresh lease of life to 'Bandhani' by using non-traditional motifs and colours in contemporary clothing like kaftans and capes as well as textiles. These will also be showcased at the show. Bandhani is one of the oldest known methods of tie-dyeing, and is still widely practiced in western India today.
 
Many designers and artists showcased their unique products, Handcrafted apparel, Home Linen & Decor, Fusion wear etc and others.