Blog writing competition held on Vigyan Samagam to inculcate scientific temper
Above 300 students from 4th to 10th standard took part in the competition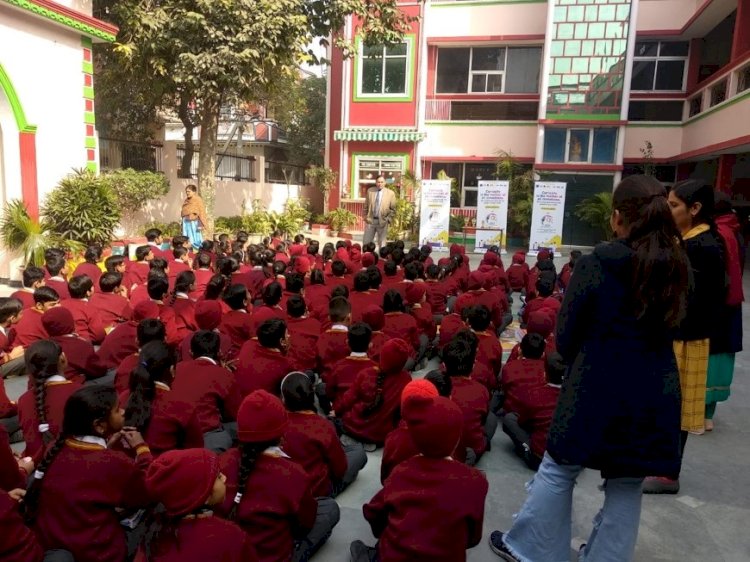 New Delhi:  Vigyan Samagam, the first global caravan mega science exhibition of India is organised by The Department of Atomic Energy (DAE), Department of Science and Technology (DST) and curated by National Council of Science Museum (NCSM) with an objective to spread awareness and enthusiasm among a large spectrum of audience, including schools, colleges and University students, allowing them to take a deeper peek into the scientific research that is redefining the boundaries of human knowledge.
In accordance to spread awareness about Vigyan Samagam, a blog writing competition was organized in Parag Bharti School, New Delhi. This also helped to inculcate basic concepts of Science at the school level, engaging the students with their counterparts as well as sensitize the students about how India is prospering in this arena.  
Above 300 students from 4th to 10th standard took part in the competition. They were briefed about Vigyan Samagam, its objectives and vision well in advance to help them understand the core messaging and prepare diligently for the blog writing competition.
Judging the competition, Mrs. Seema Saini was truly impressed reading the submitted content of the students and explained how the students very intelligently penned down their understanding of the objective of Vigyan Samagam. Among them, Bhumika Pandey of 9th Standard and Shruti Deswal 5th Standard grabbed the 1st position and Dhruv studying in Class 4 secured the 2nd position.
Principal Renu Lakra was over joyed watching such eagerness among her students, she said that such competition will help the students take interest in scientific discoveries and planetary science and inspire them to explore career options in future.
Students and teachers were briefed about Vigyan Samagam. They were enlightened about the importance of science and India's contribution in the international science projects.
Through this first-of-its-kind science exhibition, students will be bestowed with innovative scientific thoughts and approaches, making the future India flourish in advanced science and technology spare. Therefore, DAE and DST urges school administration to encourage participation of students in this mega event.
The exhibition is now live at National Science Centre, New Delhi. Students and academic members were encouraged to visit the exhibition to witness the major fundamental breakthroughs in modern science. Informative materials about Vigyan Samagam and the projects displayed at the exhibition were handed over to all participants and active members of the school. 
In order to populate science and develop scientific temperament, Vigyan Samagam has been organizing activities at different schools across New Delhi. The idea behind this exhibition is to demonstrate the technical ability and scientific acumen of Indian Scientists in global mega science projects like CERN, FAIR, INO, ITER, LIGO, MACE, SKA and TMT.
Vigyan Samagam is currently open for public till March 20 at the National Science Centre, New Delhi. The exhibition will remain open on all days from 10:00 AM till 06:00 PM including holidays.