BJP Punjab Senior Citizen Cell president Sita Ram Sharma motivates party men to strengthen organization
Says it will show positive results in the coming Punjab Assembly Elections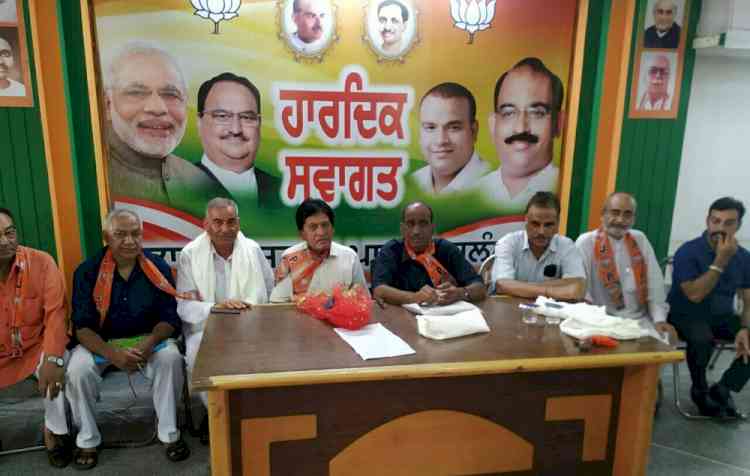 Jalandhar: BJP Senior Citizen Cell District Jalandhar held meeting at Sitla Mandir, Jalandhar which was held under the presidentship of Kant Kareer. 
BJP Punjab Senior Citizen Cell president Sita Ram Sharma, BJP State Senior Citizen Cell vice president Dhanpatrai, B.J.P. Senior Citizen Cell State general secretary Satish Kapur and Sandeep Talwar were also present in the meeting. 
While addressing the senior citizen members, Sita Ram Sharma said that the senior party leaders / workers who are at present isolated and are not active in the party should be motivated to strengthen the organization with their ability and past experience. This will certainly benefit the organization and will show effective and positive results in the coming Punjab Assembly Elections in the year 2022 in forming the government. 
BJP Senior Citizen Cell Punjab general secretary Satish Kapur said that the experience in the organization of the seniors will certainly yield positive results in strengthening organization structure. 
General Secretary Sandeep Talwar emphasised on mass contact programme in their areas to the senior citizens and motivated the masses.
The district president Kant Kareer said that soon the organization structure of the Cell will formed. 
Om Parkash Sappal, Arun Handa, Inder Parkash Arora, Varinder Arora, Dharampal Arora, Sudershan Mongia, Ashwani Bansal, Parveen Handa, Rajesh Mohan Bajaj, Ashok Chaddha, Vijay Anand, Master Muni Lal and others were present.