BJP MLA Rakesh Pathania explains government vision on Gaggal airport expansion
Gaggal Airport is busiest of 3 airports of Himchal Pradesh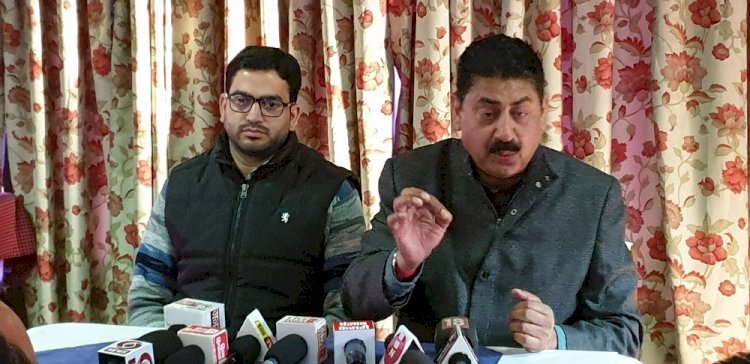 BJP MLA Rakesh Pathania addressing the press conference at Dharamshala.


Dharamshala: BJP MLA Rakesh Pathania from Nurpur has come forward amidst a ruckus over the expansion of Gaggal Airport of Dharamshala. He said that 660 crore rupees will be allocated as compensation to those displaced under expansion, not only that the government is trying to increase this amount, and a detailed proposal has been sent to centre. Dharamsala MLA Vishal Naihari was also accompanying Pathania, during the press conference which was organised in Dharamshala on Tuesday. Patrhania  said, handsome compensation has been planned for the  that in the wake of expansion, affected parties due to this airport expansion, and even premises built on the shamlat (government land) shall also  being entitled for compensation." He said for the development of the Himachal tourism and the concerned area in Particular, this expansion is the need of the hour.
 
He informed that for the expansion of the airport, a total of 140 hectares of land will be acquired, of which 102 hectares will be from Kangra assembly constituency of 10 villages while 38 hectares of land will be of Shahpur assembly constituency of 4 villages, and the mapping of this land has already been done.
 
Pathania said that under the process of expansion, efforts are being made for those who will be displaced that a new township near the existing Gaggal Town will be developed, for the uprooted families , which also has commercial hub with all modern facilities. Pathania termed expansion as a tourism necessity and said that this would strengthen the economic situation here.
 
He quoted the example of Dehradun airport, with the expansion of which tourism has flourished a lot in Uttara Khand.
 
It may be added here that Residents of villages around the Dharamshala airport at Gaggal are demonstrating protesting against the planned expansion of the airport, with the plea that hundreds of families would become landless if the expansion is carried out. Their delegations are meeting with CM, ministers and administration on the issue for the past few months.
 
According to a recent survey conducted by the administration, it was proposed to expand the airport to 3,010 metres based on the report of the Airports Authority of India (AAI). In such a situation, some areas up to old Matour village may come under the area of expansion.
The Dharamshala airport, officially known as Gaggal Airport, is located in Gaggal, 12 km from Dharamshala, is the busiest of the three airports of Himchal Pradesh.