BJP holds majority for Mayor and Deputy Mayor in Dharamshala Municipal Corporation: Forest minister
The elections were held yesterday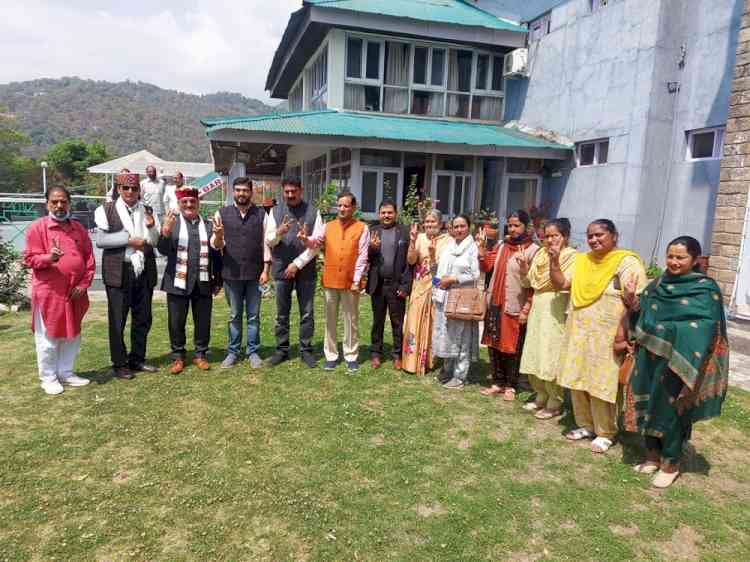 Dharamshala: Forest Minister Rakesh Pathania said that BJP has full support for making Mayor and Deputy Mayor in Dharamshala Municipal Corporation and in this regard, one independent councillor has also discussed in detail with us about the formation of BJP led Municipal Corporation in Dharamshala.
In the yesterday held elections of Dharamshala Municipal corporation BJP has won 8, Congress 5 and 4 independents  declared winners in 17 member house of Dharamshala MC. Now BJP just needs support of only one independent to form its Mayor and Deputy Mayor here.
Forest Minister Rakesh Pathania said that three independent members of the house (out of four) have agreed to support the BJP, out of which one independent councillor has also made an appearance at the meeting with  all BJP councillors at Dhauladhar Hotel in Dharamshala today. The Forest Minister said that this time BJP has done better than last time in Municipal Corporation elections in  Dharamshala, last time Congress was held in Municipal Corporation Dharamshala, with its 13 members of 17 members house . "This time Congress has been completely rejected by the voters," said the Minister.
Talking to this correspondent Forest Minister Rakesh Pathania said that the BJP will expedite the development works in Dharamshala and the pending works will be completed in a time bound manner. He said that the smart city project is also the responsibility of the Modi government at the center and under this project, guidelines will be given to work at the war level and monitoring of the works will also be ensured regularly so that Dharamshala  becomes the ideal smart city of the country.
Minister thanked all the voters of Dharamshala Municipal Corporation for supporting the BJP  candidates. He said that projects worth Rs 334 crore are being implemented to develop Dharamshala as a smart city. In addition to this plans are also being prepared for more projects worth Rs 296 crore.
The Mayor and Deputy Mayor shall be elected on 13 th April.
Eight newly elected BJP councillors and one Independent Councillor  of the Municipal Corporation attended a meeting today in which  MP Kishan Kapoor, MLA Vishal Naihari, MLA Arun Kumar, BJP Media Incharge Rakesh Sharma, General Secretary Sachin Sharma and various BJP officials were also present.
BJP is all set to replace Congress in Dharamshala MC.