Bisleri launches India's first clean plastic segregation and collection center to fight plastic pollution
The project aims to bring about habitual change in the society to enable people to clean the plastic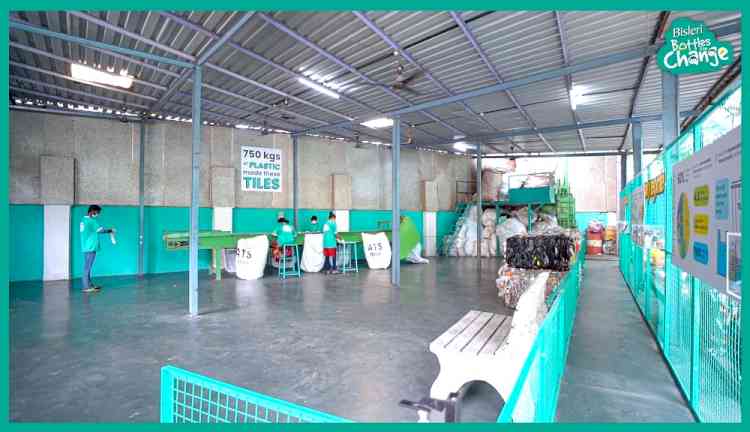 India's first clean plastic segregating and recycling plant.
Mumbai: India's plastic pollution is a formidable challenge. Consider this: The country generated 26,000 tons of plastic waste during 2019-2020, out of which only 60 of per cent was recycled. The remaining 40 per cent ended up in landfills or as pollutants in streams or ground water (Source: Central Pollution Control Board) only because plastic disposed in filthy condition does not get picked up for recycling and lies around as litter. This World Environment Day, Bisleri, industry leader and India's most trusted brand of bottled water, which has been actively working towards the cause of a cleaner and greener environment has launched India's first clean plastic segregation and collection center at Marol, Mumbai.
 
The Bisleri Showcase Centre is a part of the company's 'Bottles for Change' programme, initiated in 2017 and aimed at creating awareness among consumers about plastic pollution and proper methods of plastic waste disposal. Since its inception, Bisleri has been able to recycle more than 6,500 tons of plastic while working alongside with local government bodies to create awareness as a part of 'Bottles for Change'.
 
Taking a step forward to reaffirm its commitment to a cleaner environment, the center in Marol is conceptualized on the future of segregation. With a capacity to process 25 tons of used plastic per month, the plant is built across 2,400 square feet on a plot provided by MCGM's (Municipal Corporation of Greater Mumbai) K-East ward. What sets this facility apart is that it showcases how the right method of segregating and disposing plastic can help tackle the pollution problem. The interiors have been created using 1,50,000 MLP (Multi-layer plastic) recycled bags (biscuits, chips and chocolate wrappers) as partitions. For 100 sq. ft. area, 100 kgs of recycled hard plastic blocks (hard plastic like juice containers, food containers, toys, shampoo, conditioner bottles, etc.) have been used to build the entrance ramp, which is strong enough to bear load equal to 30 tons of vehicles.
This revolutionary facility will also serve as a destination to educate citizens on importance of plastic segregation and recycling. The center displays information about habitual change, various recycling processes and also exhibits a range of products that can be made using recycled plastic. Aesthetics are not left behind here. The plant also houses a conveyor belt with bailing machine for processing of plastic before it is sent directly for recycling. Most importantly, it also ensures clean surroundings and hygienic working conditions for green plastic agents.
 
Speaking at the launch of the Bisleri Showcase Centre at Marol, Ms. Anjana Ghosh, Director Marketing and Our Social Responsibility, Bisleri International Private Limited said, "Bisleri has been working passionately towards the cause of plastic management since the last four years. Our aim is to recycle more than 10,000 MT in next few years and go beyond. We have commenced various programmes across cities like Mumbai, Delhi and Chennai, where we work on creating awareness through education seminars in housing societies, corporates and schools. We are trying to break the widespread notion that plastic alone adds to environment pollution. Our aim is to educate the public that plastic, by itself, is not harmful. It's the way of disposing that makes a difference. The Bisleri Showcase Centre is a landmark in our 'Bottles for Change' movement and is a major step towards educating citizens, especially our future generations, about segregation and recycling of plastic for its endless and unlimited potential."
 
The project aims to bring about habitual change in the society to enable people to clean the plastic, segregate the plastic from their waste and send it for recycling. Bisleri believes that it is necessary for the society to stop treating plastic as a waste and find solutions to dispose it responsibly. Bisleri's multi-city awareness drive spans across citizens, corporates and institutions. The company is actively working with Mumbai Municipal Corporation, South Delhi Municipal Corporation, East Delhi Municipal Corporation, North Delhi Municipal Corporation, Panvel Municipal Corporation, Thane Municipal Corporation, Navi Mumbai Municipal Corporation and Vasai Virar Municipal Corporation.
 
"This year as a part of the 'Swachha Sarvekshan Abhiyan', Delhi has adopted plastic recycling and waste management education through the various municipal corporations in South, East and North Delhi (SDMC, EDMC and NDMC) The authorities have been an active part of our 'Bottles for Change' initiative which is a testament to our efforts. We hope that this will encourage local authorities in other cities as well," observed Ms. Ghosh. 
 
Through Bottles for Change, Bisleri has touched over 6 lakh individuals, 800 housing societies, 400 schools and colleges, 500 hotels and restaurants, 500 corporates, 600 awareness sessions. This programme has also created a channel and opportunity for plastic agents to collect used but clean plastic (hard as well as soft) through various stakeholders. With the objective to collect the clean plastic for recycling, the programme also aims to drive social change and help empower up the green plastic agents
 
Bisleri has also worked with corporates such as Indian Oil, Western Railways, NSS Wing of Mumbai University, Bombay Stock Exchange, Godrej, JP Morgan, and Tata Consultancy Services amongst others. Currently in Chennai, Bisleri is working with Power Grid Corporation of India, Sundaram Medical Foundation amongst others.