Birla High School Alumni's Celebration of 75 years of Indian Independence and 80 Years of founding of Birla High School
Motivational Talk by Dr Kumar Vishwas at Science City Auditorium, Kolkata on 7th May, 2022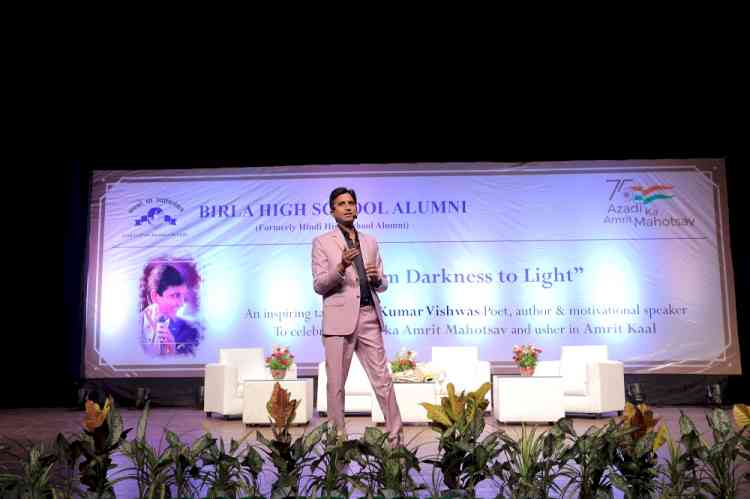 Kolkata, May 11, 2022: It was our flagship program in the list of events. It aimed to inspire the young minds to move from darkness to light, inculcate values and emerge as true Indians. About 500 guests & 1500 students of Birla High School, Sushila Birla Girls School, Sri Shikshayatan, J.D. Birla Institute and Haryana Vidya Mandir were present.
The event was moderated by a student of Birla High School, Aman Gupta. The President of BHSA, Atul Churiwal delivered an inspiring speech about India's history, and the various advancements that have taken place in the country since independence.
The Chairperson of the Alumni and the Principal of Birla High School Loveleen Saigal. She thanked the Alumni for organising the event and introduced Dr. Vishwas.
Rohan Kumar, the second student moderator spoke about Dr. Kumar's life, his achievements, and his incredible wit.
Dr. Vishwas was then welcomed by the Hony Secretary of BHSA Anand Saraf, and Vice President Sachin Saraf, with a bouquet and a shawl.
The theme of this program was 'From darkness to light' – he initiated his speech by critiquing the written history of this country as 'history of the winners'. The thousands who sacrificed their lives remain as unsung heroes. Throughout his speech he tried to instil within the youths present in the auditorium a nationalistic feeling calling to break all barriers of caste, creed, religion and develop a pan Indian feeling. He mentioned Netaji Subhas Chandra Bose; he marvelled at how, in spite of his family background and successful career, Bose sacrificed everything for the freedom of the country.  
He urged the youth to break the prototype and build new dreams, to move from darkness to light, just like a latent seed hidden in the earth eventually germinates to move towards light. He brought in a renewed sense of dignity to the mother tongue in a world that looks up to English despite being a foreign language. He emphasised the difference between education and learning. The speaker was quite vocal about the narrow motifs of the politicians of the country and their tendency of appeasement for the vote bank. Along with the cleanliness of the country he was verbose about the cleanliness of the soul.
He tried to enthuse the audience by saying, "God is preparing you for something bigger". Whenever someone feels like life is unfair, or they are simply sad or unhappy, they must remember that everything happens for a reason, and all those bad experiences will someday lead them to something great, something good.
 
All along, it is to be noted that his conversational style attracted the attention of the audience and he frequently made the audience roar into applause or laugh their hearts out with his witty remarks.
He spoke about the contribution of parents and teachers in our life and how only these two will be happy to lose for the betterment of their children & students. Parents are the proudest when their children excel and perform better in life, and teachers are the happiest when their own students outshine them.
 
He emphatically spoke to the youth on how technology estranged humanity from each other. He reminded the future citizens of the country about the traditions, culture and heritage of the country. The example of Holi was cited and how it has a cathartic effect on people and must be looked at from a different perspective transcending religious connotations.
 
He concluded by reinstating the fact that India is self-sufficient. There might be problems in this country just like any other, but to keep us going strong is the tradition, the heritage and the strong value system. He reminded the present that the onus of bringing in a new leash of life rests in the hand of the present and the future. He is hopeful that someday, India will emerge as one of the most powerful countries in the world.
 
After Dr. Viswas's inspiring speech the vote of thanks was delivered by the convenor of the program Mr. Arun Kumar Dalmia. Wherein he thanked the dignitaries and audience for attending the program and making it a success.
 
The program would not have been possible without the contribution of the Ashish Jhunjhunwala, Sanjay Jain, Sushil Sethia, Sachin Saraff, Anand Saraf, Krishan K. Khandelwal, Mohan Goenka,  Gaurav Vasa, Neeraj Chowdhury, Amit Chirawala, Sailesh Ganeriwal, Kapil Shroff and other organising committee members.
 
The Alumni has further planned the following:
1.      Inter School Debate
2.      Inter Alumni Funtakshari
3.      Intra School Essay and Painting Competition
4.      Coffee Table Book on 75 years of India's Independence India in 2047