Bharat Bhushan Ashu reviews steps taken by district administration to tackle fresh covid wave
Keeping a close watch on current covid-19 scenario: Ashu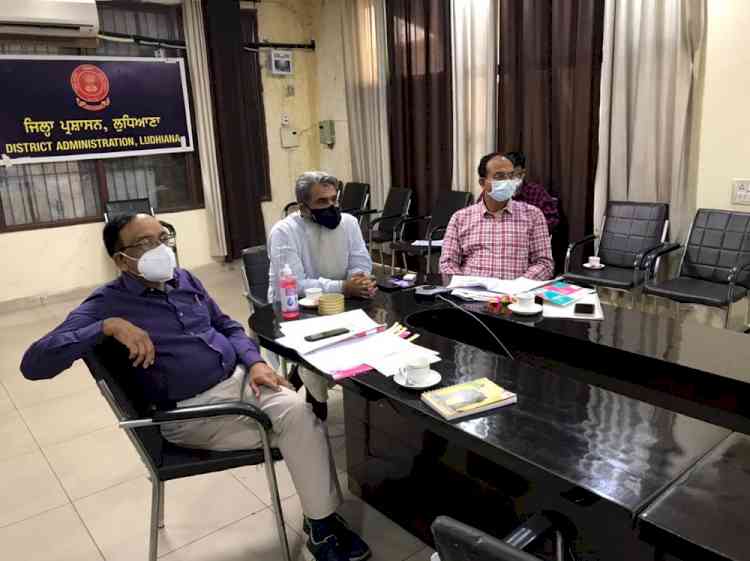 Ludhiana: With the Ludhiana witnessing an uptick in Covid cases, Punjab Food, Civil Supplies and Consumer Affairs Minister Bharat Bhushan Ashu today said that the district administration has already stepped up its efforts to contain pandemic and has been putting a strong fight against the pathogen. 
Participating in a video conference with Chief Minister Capt Amarinder Singh to review the Covid-19 preparedness and minimise the loss of lives in the crisis, Cabinet Minister Bharat Bhushan Ashu said the district administration is fully prepared to address the surge and fighting the pandemic at the forefront.
He said the administration has already ordered the health department to work on testing, treating and tracing, the golden standard to curb this infectious disease. 
He said that the administration has already scaled up testing, ramped up infrastructure for best quality treatment to the patients besides has been tracing more than 10 contracts of each positive case in the state as soon as possible to stem the spread. 
Ashu told that additional funds have already pumped in for the administration to tackle the surge effectively including arrangement of oxygen, beds and other requisite infrastructure. 
He urged the people to support administration wholeheartedly and not to hesitate and report to the doctors immediately if they have any kind of flu-like symptoms so that the spread of the Covid-19 can be halted without further loss of any life.

The Minister told that the next three weeks are very much crucial to combat the spike in Covid cases and appealed the people to remain vigilant besides following the health safety protocols meticulously especially two-yard physical distancing, masking and hand hygiene. 
He also appealed to the people not to fall prey to any kind of canards being spread through social media regarding vaccination and all eligible must come forward for the jab immediately to help in breaking the transmission cycle of virus. 
Prominent among present occasion included Deputy Commissioner Varinder Kumar Sharma, Civil Surgeon Dr Sukhjeevan Kakkar and others.