Bharat Bhushan Ashu launches phase-ii of urban environment improvement programme in Ludhiana
Ludhiana will be established as most developed city in country: Ashu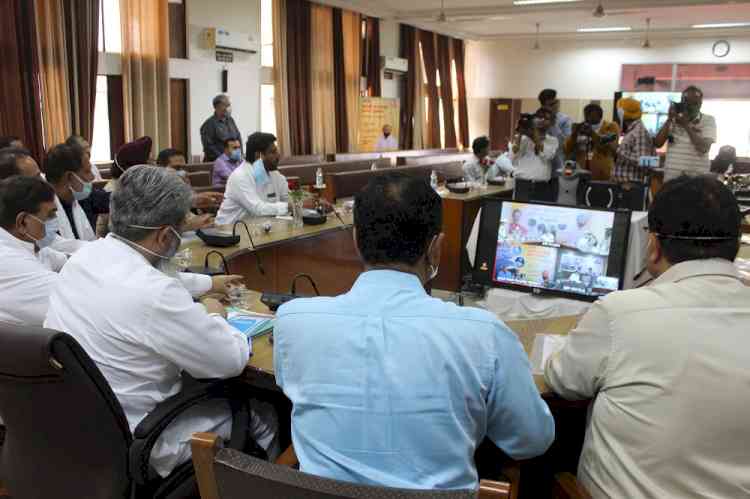 Ludhiana: With Chief Minister Captain Amarinder Singh virtually launched phase-2 of the Punjab Government's Urban Environment Improvement Programme, Punjab Food, Civil Supplies and Consumer Affairs Minister Bharat Bhushan Ashu on Saturday, said that the Ludhiana also known as the Manchester of India, will be established as the most developed city in the country.
The minister along with MLA East Sanjay Talwar, MLA North Surinder Dawar, MLA Gill Kuldeep Singh Vaid and Mayor Balkar Singh Sandhu was attending the launching of Phase-2 of the programme worth Rs 11000 crores via video conference at Bachat Bhawan here. Deputy Commissioner Varinder Kumar Sharma and Municipal Corporation Commissioner Pardeep Kumar Sabharwal were also present at the launching.
The main purpose of this programme was to provide Sewerage Treatment Plants, 24x7 supply of potable water, LED Lights and disposal of Solid Waste in a scientific manner in every urban area of the state.
Fulfilling the long demand of Ludhiana residents, Chief Minister Captain Amarinder Singh also announced the up-gradation and beautification of Budha Nullah worth Rs 650 crores to improve its water quality, for which funding has been arranged and work is expected to be started within a month.
Bharat Bhushan Ashu expressed gratitude to the Chief Minister Captain Amarinder Singh for presenting the Ludhiana with a slew of infrastructure development projects. He said that Ludhiana might the only city in which new projects under smart city mission and other government schemes were underway in every nook and corner.
He said that the famous Sarabha Nagar market, in a completely new look, would be dedicated to the residents before Diwali. The Sarabha Nagar market project includes up-gradation of design, supply and installation of all landscape works, including under-grounding of electrical services. He said that project worth Rs 17.85 crores to the cover the Ganda Nullah drain from Shingar Cinema to Transport Nagar was also underway.
The minister also advised mayor, presidents and councillors to spend every single hard-earned penny of taxpayers wisely and compromise with the quality of materials or products used in projects will not be tolerated.
Meanwhile, Bharat Bhushan Ashu informed that numerous projects including a modern slaughterhouse, smart schools, Sidhwan Canal Waterfront Development Project, solar system on rooftops of government buildings etc worth Rs 2500 crores are either in the tender process or are underway.
On the occasion, Chairman Amarjit Singh Tikka, Chairman KK Bawa, ADC-D Sandeep Kumar, Senior Congress leader Karanjit Singh Galib, MC Councillor Mamta Ashu and Deputy Director Local Government Amit Bamby among other prominent persons were present.