Bharat Bhushan Ashu inaugurates NGO Expo at Nehru Rose Garden 
59 NGOs set up stalls in this expo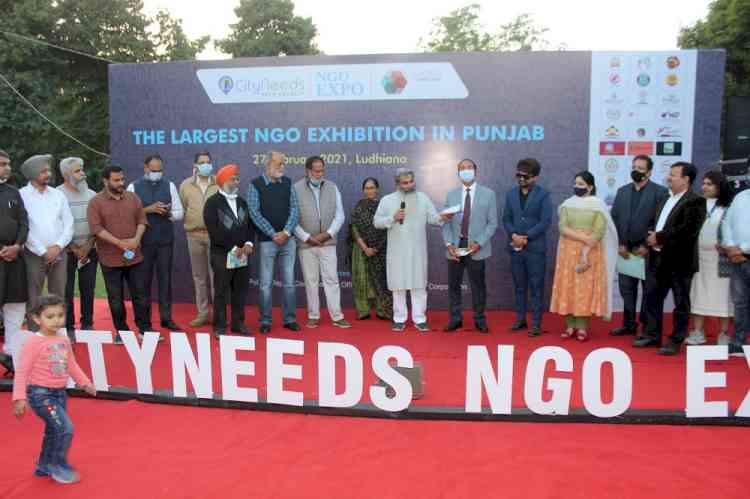 Ludhiana: In a bid to ensure better coordination amongst city NGOs and residents, a first of its kind NGO Expo was organised at Nehru Rose Garden here today. The NGO expo was inaugurated by Punjab Food, Civil Supplies & Consumer Affairs Minister Bharat Bhushan Ashu. A total of 59 different NGOs set up their stalls in this expo. 
Mayor Balkar Singh Sandhu, Deputy Commissioner Varinder Kumar Sharma, Ludhiana Improvement Trust Chairman Raman Balasubramaniam, MC Councillors Mamta Ashu and Sunny Bhalla, Joint CP Deepak Pareek, ADC (General) Amarjit Bains, SDM Amrinder Malhi, MC Joint Commissioners Swati Tiwana and Kulpreet Singh, besides several others were present on the occasion.
While speaking to media persons on the occasion, Bharat Bhushan Ashu said that it is first-ever NGO Expo in Punjab and is being organised to celebrate the World NGO Day, wherein more than 40 local NGOs, district administration and social entrepreneurs participated to showcase their projects and initiatives.
He said that the main aim of Expo was to ensure that the residents come to know which NGOs are working in which field so that maximum number of people can be benefited from it.
Deputy Commissioner Varinder Kumar Sharma specially thanked MC Councillor Mamta Ashu for coming up with this idea of organising such fair for the welfare of residents.
A website namely www.cityneeds.info, an online platform to connect Local NGOs with prospective volunteers, donors, organisations and district administration, has already been launched. Congratulating the developers of the website, the Deputy Commissioner said that the main objective of the website is to facilitate credible NGOs of Ludhiana and mobilise adequate resources for them to continue doing their good work.
Mamta Ashu said that the event was aimed to encourage positivity and stimulate the spirit of volunteerism & philanthropy in our society, empower the NGOs in their projects and promote social entrepreneurship.