Bharat Bhushan Ashu dedicates practice wickets cricket centre in SCD Govt College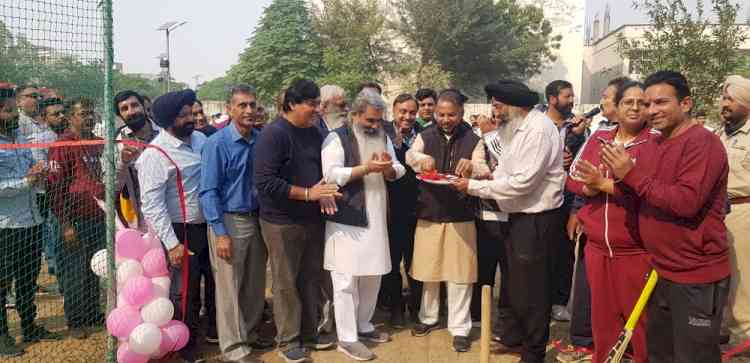 Punjab government committed to provide sports facilities to all sections of society and age groups
Ludhiana, November 14, 2021: Punjab Food, Civil Supplies & Consumer Affairs Minister Bharat Bhushan Ashu and Punjab Cricket Association President Rajinder Gupta on Sunday dedicated a Practice wickets Cricket Centre in SCD Government College, here. This centre would be managed by the Ludhiana District Cricket Association (LDCA).
Speaking on the occasion, Cabinet Minister Bharat Bhushan Ashu said that all existing sports infrastructure in Ludhiana is being upgraded including new athletics synthetic track at Guru Nanak Stadium, while work on indoor swimming pool would also start shortly. 
He said that the indoor swimming pool at Rakh Bagh has been a long pending demand of the city residents, and the work on it would commence shortly. Other sports infrastructure to be upgraded included the Shastri Hall, Basketball stadium, Table Tennis stadium, hockey Astroturf at PAU, besides all others. 
The Minister said that the state government was making all out efforts for promoting sports across the state to channelize the unbounded energy of youth in a positive manner. He said that the sports policy of the state government was a best in the country as it provides jobs as it emphasizes not only on enhancing the prize money of various National and International tournaments but also ensuring a robust and top notch sports infrastructure in Punjab aiming at producing champions for national and international events. 
On this occasion, Bharat Bhushan Ashu, who himself is a cricket player, also faced a few shots on the cricket pitch.
Punjab Cricket Association President Rajinder Gupta said that Ludhiana District Cricket Association would supervise the cricket activities here that maximum players can avail the benefit of the centre.
MC Councillor Sunny Bhalla informed that this centre would be managed by the Ludhiana District Cricket Association (LDCA).
Prominent among those present on the occasion included LDCA president Satish Mangal, General Secretary Anupam Kamaria, Harmeet Batra, Rajeev Puri, international cricket player Gagandeep Singh, besides several veteran players, coaches and sports lovers.