Bharaitya Mazdoor Sangh, Chandigarh constitutes new executive committee 
Badri Prashad Kaushik, BMS congratulated the new team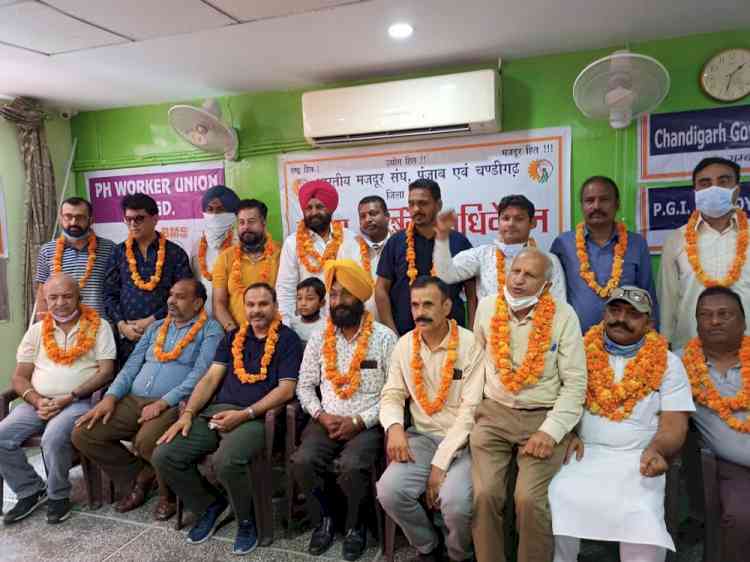 Newly appointed office bearers of the executive committee of Bharatiya Mazdoor Sangh, Chandigarh.
Chandigarh: The Bharatiya Mazdoor Sangh(BMS), Chandigarh held its 2nd Convention at Garhwal Bhawan, Sector 29 A, Chandigarh . The Convention was held under the Presidentship of Ashwani Kumar Munjal, Vice President, BMS, Punjab and Chandigarh.  Sunil Yadav, General Secretary, BMS, Punjab and Chandigarh attended as Observer and Convener.
The representatives from all Unions affiliated with BMS like PGI, CTU, Ordnance Cable Factory, Municipal Corporation, Canara Bank, New India Insurance, Micron, GMCH 32, etc attended the convention.
The following team of BMS, District Chandigarh has been elected for a term of 2 years, which was announced by Sunil Kumar Yadav, General Secretary,  BMS,  Punjab and Chandigarh.

President - Sanjay Thakur ,Vice President (s) Ravindra Kumar Jaiswal, PGI, Balbir Ram, MCC, Surinder Singh, New India Insurance,Sanjiv Kanojia, PGI Contract Workers Union, Sushant Kumar, Canara Bank,  Ajay Kumar, PGI Employees Union. Malkit Singh was appointed Secretary. Joint Secretary(s) appointed were - Jatinder Kumar, CTU, Davinder Sharma, Regional Provident Fund, Sushant Sharma,  OCF, Ashok Kumar,  Micron, Sunder, PGI Safai Karamchari Contract Workers Union, Sunil Kumar, 3 BRD,  Iqbal Singh, Canara Bank.
Arun Kumar, 12 Wing Air Force was appointed as Press Secretary while Pradeep Masih was made Cashier. 
Badri Prashad Kaushik, BMS congratulated the new team and wished them success in their future endeavors.