BCCI secretary Jay Shah visits PCA new cricket stadium
PCA President Rajinder Gupta welcomed Jay Shah to new stadium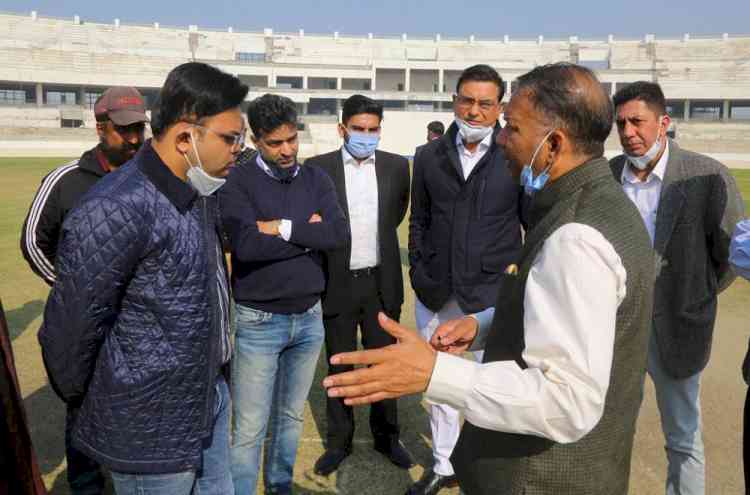 Jay Shah, Secretary BCCI along with PCA president Rajinder Gupta during his visit to PCA New Cricket Stadium.


Chandigarh: Jay Shah, Secretary, Board of Control of Cricket (BCCI) in India visited New International Cricket Stadium being constructed by Punjab Cricket Association (PCA) at Mullanpur, New Chandigarh. Mr Shah took over as Secretary, BCCI in October, 2019. Arun Thakur, Treasurer of BCCI also accompanied him along with other officials.

This is for the first time that Secretary & Treasurer have visited the construction site. Mr Shah shared his global experiences and guided PCA team on best practices on construction of stadium and pitches for game. President, Chief Executive Officer, Secretary along with Project Team were present at site. BCCI Secretary advised team to complete of activities to have first match in new international stadium in shortest possible time. The requirement of Project Management Consultant was also discussed along with appointment of Architect having global experience. BCCI team also shared concerns on maintenance and self-sustainability of project.

Earlier, PCA President Rajinder Gupta welcomed Mr Jay Shah to New stadium and took him to ground, pitches, boxes, stands and utility areas. Both had met yesterday also to discuss promotion of Cricket in Punjab at grass root level and bringing transparency. Mr Shah invited to visit recently constructed Ahmedabad Stadium having capacity of more than 1 Lakh and experience best practices and how various knowledge partners have executed State of Art Stadium.