Battle of supremacy in Himachal Congress continues: Rakesh Sharma 
He is media in-charge of Himachal Pradesh BJP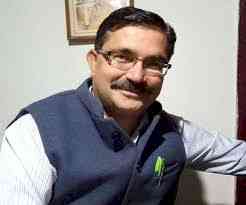 Dharamshala: Rakesh Sharma, media in-charge of Himachal Pradesh BJP, has said that the battle of supremacy in the state Congress is going on, even after appointing  130 office-bearers by congress in state, the battle is still on.
He said that even after announcing 150 leaders in 68 assembly constituencies, the tug of war in the Congress party has intensified.
"Although this is an internal matter of the Congress, but the people of the state have become aware that the Congress doesn't have a leader nor any policy nor too the intention left", he added.
He said that the a budget has been given by BJP government of the state in public interest under the leadership of CM,  Jairam Thakur in Himachal Pradesh.
This budget will be passed on March 25, in which there is provision for providing houses to 1000 poor, pension to 50 thousand poor and provision of providing government jobs 20 thousand.