Basketball Foundation Day celebrated 
Today, this game is played in every nook and corner of the world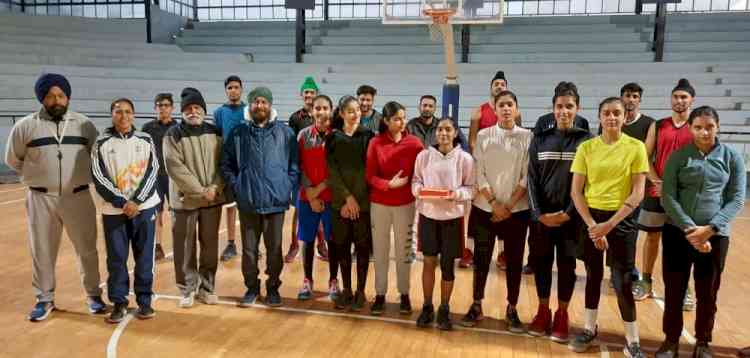 Ludhiana: The District Basketball Association, Ludhiana celebrated the 129th anniversary of Basketball Sport which was started on Dec, 21 1891. The basketball players of Ludhiana Basketball Academy (LBA) assembled in basketball courts in the city's Guru Nanak Stadium and played matches.
Mr. Teja Singh Dhaliwal, Gen Secretary of Punjab Basketball Association later told players about origin of game which he said it began when James Naismith, a Canadian physical education instructor invented this sport for his trainees to keep them hooked to physical activity so that they did not become inert in the winter chill there. Today, this game is played in every nook and corner of the world and is also recognised as an important sport in Olympic Games.
Also present on the occasion were Rajinder Singh, Chief Coach LBA, Ms.Saloni coach for Women, Mr. Narinder Pal, Vijay Chopra of PBA and Brij Bhushan Goyal, treasurer of Ludhiana Basketball Association. Goyal, gave a pledge to players present there to never take recourse of stamina boosting health supplements for showing their performances in matches. He said that when players are caught in dope tests, this not only mars their sporting and job career, but also earns bad name for the parents and sports bodies. Coach Rajinder Singh thanked the management of LBA and PBA for popularizing the sport in every district of Punjab. He informed that already many players trained at LBA are drafted in NBA and are playing FIBA matches. Vijay Chopra distributed sweets to the players .