Baby Advita sets 5 unique records at tender age
It's very easy to teach Advita, as she captures everything quickly, but the major challenge is to make a video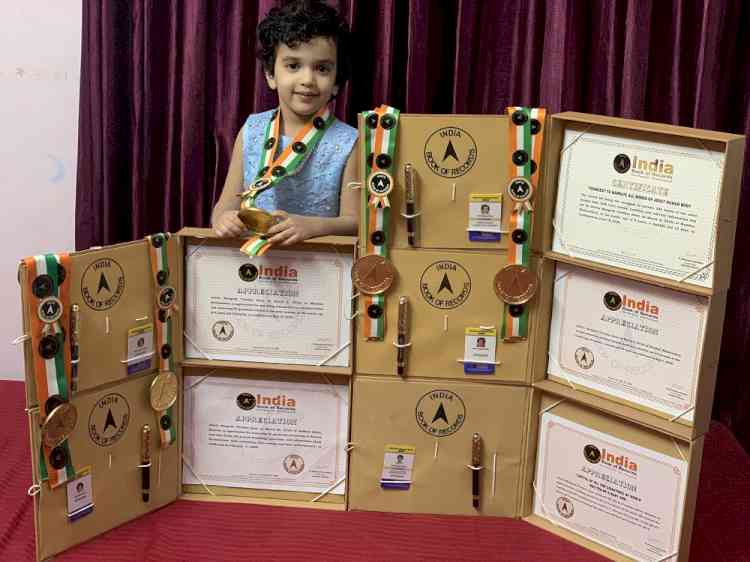 Advita Mangesh Tivrekar.
Chandigarh: A four years old baby girl, Advita Mangesh Tivrekar has made five unique records at this tender age. The achievements have got place in 'India Book of Records'. The child has a special talent of memorising hundreds of facts without any fail. She can answer a variety of questions related to general knowledge.
 
Advita (born on March 6, 2016) is appreciated for answering 32 questions pertaining to doctors and their fields; 62 general knowledge questions and information about 20 Scientists, their inventions, their awards and achievements. The baby recited Ganpati Aarti in 2 minute 45 seconds at the tender age of 4 years, 1 month and 29 days. She is from of Andheri (East), Mumbai.
 
Advita provided information on celestial bodies and answered 47 questions related to the solar system, at the age of 4 years and 2 months. The record for being the youngest to narrate 206 bones of the adult human body with their names, numbers and relevant information was set by Advita at the age of 4 years, 3 months and 12 days, as confirmed on June 18, 2020.
 
Advita set another record by reciting capitals of 197 countries in 11 minutes 56 seconds, at the age of 3 years and 7 months on October 6, 2019. Her parents made videos of these activities to claim for the records. For each video she practiced for 10-12 days.
 
When asked what was the inspiration behind these records, her mother said, "She has a magical memory, as she can absorb any amount of information and gives almost 100% output."
 
It's very easy to teach Advita, as she captures everything quickly, but the major challenge is to make a video. She is very creative, so she gets bored easily with one task and so she likes to do many things like drawing, colouring, painting, reading, solving activity books one after the other, and asking questions about different things. Hence making her sit at one place and recording a video is a major challenge for us, tells her mother, who says, "I understand that every child is different and they have their specific talent. The only thing required is parent's patience and their dedication towards improving their kids qualities."
 
India Book of Records is the custodian of Indian records since 2006. With the launch of the 15th edition of India Book of Records 2020 on 27 December 2019 at Hotel Radisson Blu, Paschim Vihar, New Delhi, it has become arguably the only book of records with the Chief Editors from record books of seven nations (Vietnam, Malaysia, USA, Nepal, Indonesia, Bangladesh and Thailand) as its board members. India Book of Records is one of the most widely circulated record books with worldwide availability through major online & offline book stores.