Awareness on menstrual hygiene and pulse polio in NSS Camp
Fifth day of seven days special camp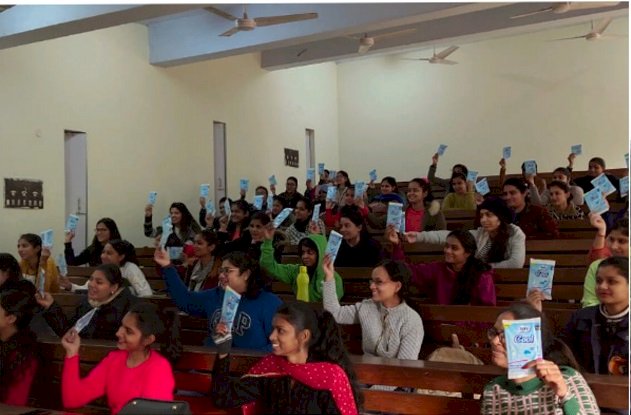 Chandigarh: Fifth Day of Seven Days Special NSS Camp in Government Home Science College witnessed awareness on Menstrual Hygiene and Pulse Polio Campaign. With an aim to promote Fit India Movement and build strength, awareness and harmony in both mind and body, Yoga sessions were conducted by the enthusiastic volunteers. Volunteers performed various 'Asanas' to improve respiration, energy and vitality and further improvise their athletic performance. They were informed about the benefits and importance of yoga in our daily lives.
During the second half of the day, a menstrual hygiene campaign was conducted for the volunteers in collaboration with Unicharm's feminine hygiene brand Sofy. The objective of the campaign was to generate awareness about menstrual hygiene by dispelling myths and taboos related to this issue. The main aim was to discredit shame related to menstruation and sensitize the volunteers to consider menstrual phase as a blessing and follow proper standards of hygiene and sanitation. Sofy distributed its environment- friendly and anti- bacterial premium quality sanitary pads free of cost to all the volunteers of the NSS camp. Later on, Dr. Sonalika Yadav, Civil Dispensary, Sector-11, Chandigarh was the guest speaker of the session. She sensitized the volunteers about the Pulse Polio Immunization (PPI) Programme running from January 19,2020 to January 21, 2020 launched by the President of India ahead of National Immunization Day which is observed on 18 January every year. She informed the volunteers about the key facts of Polio, a highly infectious viral disease and enlightened their knowledge by creating awareness regarding the transmission of virus from one person to another. She emphasized upon various symptoms that must not be ignored in an individual. She further motivated the volunteers to work as active vaccinators for this massive campaign and extend co-operation for making this campaign successful for eradication of Polio in the country. Furthermore, she trained the volunteers for the upcoming Pulse Polio programme.
Principal of the college, Prof. Sudha Katyal, applauded the volunteers for their active participation in performing various 'Asanas' and further informed the students about various precautionary measures that must be followed while performing Yoga. She also motivated the volunteers to actively participate in the Immunization Programme as enthusiastic vaccinators to serve the cause.