Awareness and self-regulation alone can curb fake news: Experts
The session was attended by Zonal Head for North Renuka Salwan, Col DS Cheema and many other senior PR professionals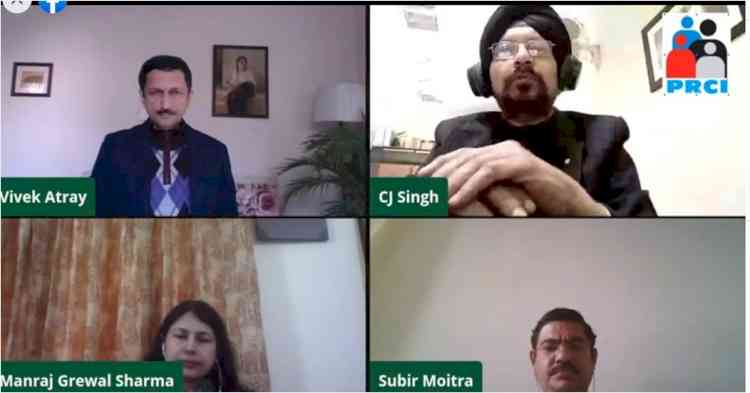 Chandigarh: Chandigarh Chapter of Public Relations Council of India (PRCI) organized a webinar on "Communication for a Better World: Fake News and its Antidote", which saw Delhi based communication professional Subir Moitra, Lead, Communication and Strategic Alliance, Thinkthrough Consulting, senior journalist and Resident Editor of Indian Express Manraj Grewal Sharma, and ex-IAS, author, motivational speaker Vivek Atray, who is also the Chairman of the PRCI Chandigarh Chapter. 
Organisations have realized the significance of effective communication during pandemic and especially with their employees which had hitherto been a neglected area, Subir Moitra said. 
Communication professionals are training the top managements in working with media, sharing information which is factual and allaying the staff's fears with authentic and timely news, he added. 
Credibility of all type of media is at stake and unless and until we go back to the basics of journalism, media would lose its trust with the viewers and readers, said Manraj Grewal Sharma, Resident Editor, The Indian Express. 
More than being first with the new, journalists have to be accurate, she affirmed and commenting on the mushrooming of youtube channels and other social media news networks, the fake news is destroying the social fabric.  
However, all panellists supported self-regulation and need to train the people with media training to help them sift the fake from the real.  
Vivek Atray underlined the need for more and more mature leadership in every sphere which is sensible, sensitive and emotionally intelligent to communicate with the people in more humane way, for which there is a need to upgrade their skills. 
M B Jayaram, chief mentor and chairman emeritus of PRCI, said that with its 36 chapters in the country and Young Communicators Clubs in various universities and colleges, this national professional body was engaged in helping organizations to build ethical and credible businesses in the country. 
Senior National Vice President of PRCI and PR consultant CJ Singh moderated the session and hoped that in the year ahead, positive and ethical communication practices would help create a better world for the humanity. 
The session was attended by Zonal Head for North Renuka Salwan, Col DS Cheema and many other senior PR professionals.