Auto drivers who are trained as ABC Volunteers saved 30 lives 
The common citizens played the role of life saviors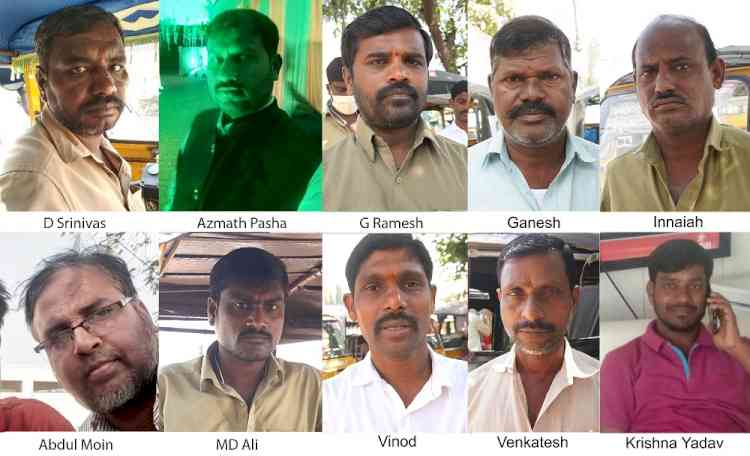 Hyderabad: What is government? Government is people and people are government.  It is not just the sole responsibility of government for the well being of the society, it is equally the responsibility of the people. People can reach people, where governments, though want, can't sometimes. So, people need to help people.
 
Here are few examples of few ordinary citizens, mostly illiterate auto drivers have become saviors. They are not doctors.  But they are socially consciously individuals.  They volunteered, got themselves enrolled, a trained in ABC (Active Bleeding Control) program, an initiative of GVK EMRI couple of years back. 
 
Auto Driver, an ABC trained Volunteer saved the life of a woman, 40years old, on July 20th in the year 2018. It was about 2100 hours she fell from bike accidentally while moving over a speed breaker without slowing down, while travelling from Doolapally Crossroads to Doolapally, near DRS School.  She was a pillion rider on the two-wheeler. An Active bleeding control Volunteer Mr. Narsimha (ABC volunteer ID-199), Auto Driver witnessed the incident and approached victim. He controlled the mob and ensured scene safety. On reaching the incident site, he assessed the victim and identified that there is an active bleeding on left thigh region. He also observed bleeding injuries on the forehead and on right lower limb. He took immediate steps in controlling the bleeding by applying the direct bandage. Once the patient was stabilized, the attenders requested the ABC volunteer, to shift the victim to a closest hospital. The volunteer shifted the victim to RR Hospital at Pet Basheerabad where she was admitted for further evaluation and management. As per follow up from the Research Assistant, Mr. Ravinder Odela, she was treated and discharged from the hospital after two days of In-Patient care after complete recovery.
 
In another incident, the same auto driver saved life of an another accident victim a  40years old man, who  fell from bike by hitting the tree accidentally on Charmas road at Misammaguda near DRS School. He was alone on the bike.  Active Bleeding Control Volunteer Mr. Narsimha (ABC volunteer ID-199) was travelling on the road and found victim surrounded by the crowd. No one on the scene dare to touch the victim so he approached victim by controlling the mob and ensured scene safety. He examined the victim and identified active bleeding. There was open fracture of right tibia which is bleeding actively. Narsimha called 108 ambulance and took immediate steps in controlling the bleeding by applying the pressure bandage with available cloth. Once the patient was stabilized, ABC volunteer waited with the victim till the ambulance came then he helped the ambulance crew to shift the victim in to the ambulance. The victim was shifted to Gandhi hospital, operated for the fracture tibia and admitted in the orthopedic ward for further observation and management.

Ever since, the volunteers auto drivers and police saved nearly 30 accident victims lives. They are not only feeling proud for themselves for saving lives, they have also become role models for others.

Idea behind this program was Common Citizens can save accident victims lives through Active Bleeding Control informs GV. Ramana Rao, GVK EMRI.

GVK EMRI launched World's First Active Bleeding Control (ABC) Project & Research on a pilot basis to save accident victims by controlling bleeding with a simple technique called "Direct Pressure" two years back. This project is a joint collaboration between GVK EMRI and PediSTARS, India, PHFI, Children's Hospital of Philadelphia, Road Safety Club at Hyderabad, Transport Department, Police department of Telangana.

The initiate is yielding very good response. 
 
Many accident victims are dying for silly reasons. Nearly 40% deaths in accidents are occurring due to uncontrolled bleeding. It takes at least 15 minutes for the ambulance to reach to the accident stop. You can save lives by controlling bleeding with a simple technique called "Direct Pressure." Everybody, even common people with little of training and understanding can use this technique and save lives.
 
GVK EMRI under this program trained a total number of 1004 volunteers from various occupation groups, most of the volunteers from auto rickshaw drivers fallowed by police officials. Of this 41 are Auto Rickshaw Drivers, 196 are Police, 113 are Students; 21 Shopkeepers 51 Toll Plaza Employees, 54 Bus Drivers and 167 others.
 
Our idea behind training them was to create a cadre of volunteers at the community level. ABC Volunteers were recognized by the means of identification cards and Stickers.  ABC Kits with bleeding controlling equipment were distributed to all the trained volunteers.
 
They were trained in subjects like Identifying life threatening bleeding, controlling bleeding Control with Direct Pressure, Bleeding Control with Tourniquet (a device for stopping the flow of blood through a vein or artery, typically by compressing a limb with a cord or tight bandage), CPR Demonstration (Cardiopulmonary Resuscitation – is an emergency lifesaving procedure performed when the heart stops beating. Immediate CPR can double or triple chances of survival after cardiac arrest) etc and others.  They were given practical training.  
 
These ABC Volunteers who involved in saving the lives were felicitated recently by ABC team with mementos recently to encourage and motivate them towards saving more lives. This process helped in sustaining active participation of the other volunteers too.
 
GVK EMRI wants more people to get involved in ABC Volunteer program. It wants to reach out to more Police, bystanders, Auto drivers, Bus Drivers, Students, Volunteers, NSS Volunteers, Petrol Bunk Staff, Shop owners and others. All they need to do is to attended the 90 minutes training program and learned the bleeding control technique practically by demonstrating on their co- participants.   Each of the participants will be given away certificates and ABC Kits also.
 
This initiative hopes to save lives by educating bystanders on techniques to help stop severe bleeding.
 
Bleeding is the leading cause of death in road traffic accidents. Bystanders in road traffic accidents can help the road traffic accident victims in saving lives. This is possible by a simple technique of "Direct Pressure" when the bleeding is active.
 
India is the signatory to UN that by 2020 it will reduce road accidents by 50 per cent.  In Telangana, the road accidents are slightly reduced, but deaths have increased informed Dr. Ramana Rao.  Every hour 55 road accidents occur, and 17 people die.  Which is the world's highest.