Australia's Celebrity Chef & TV Host Gary Mehigan holds Conosh Classified Masterclass
"Punjabi Food has a lot of influence on Australian dishes," says MasterChef Judge Gary Mehigan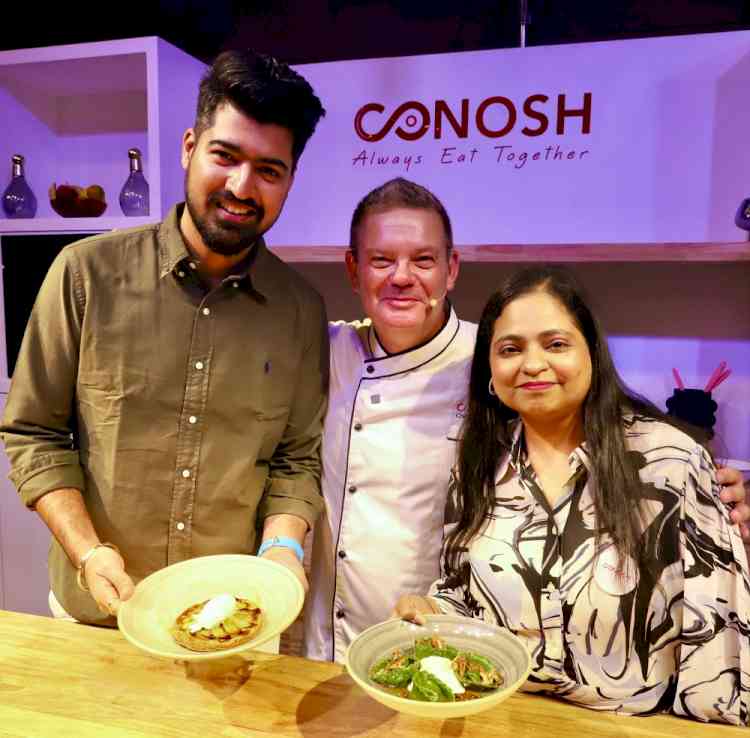 MasterChef, Gary Mehigan flanked by Vaibhav Bahl, the Co-founder of Conosh on his (Left) and Neha Malik, Co-founder of Conosh (Right) at Conosh Classified Masterclass held at Hyatt Regency, Chandigarh.


Chandigarh, March 12, 2023: "I love Punjabi food, and it has a lot of influence on Australian dishes, particularly in Melbourne, where I come from. The immigration of students and professionals from India and the rich culinary culture brought by the Indian people has had an impact on Australian food too. Personally, I am exploring more Indian cuisines currently and trying my hands to master some of these,"  said Australia's Celebrity Chef & TV Host Gary Mehigan, who came to Chandigarh for the first time to conduct a Conosh Classified Masterclass titled 'Entertaining with Style' at the Hyatt Regency, here.
Conosh - an online community of food lovers, in collaboration with MasterChef Judge Gary Mehigan, organised a unique Masterclass where Gary taught participants two sumptuous dishes - 'Mushroom Tortellini' and 'Tarte Fine Aux Pommes'.  In this unique two and half hour Masterclass, participants, including homechefs, influencers and professionals, took part in large numbers enthusiastically.
Speaking on the occasion, Chef Gary Mehigan said, "Today's Masterclass was amazing! It was specially curated to give the guests a unique experience of learning how to create timeless culinary masterpieces that they can enter into their repertoire. I enjoyed the session as I like physical interaction more than online. I want to thank Conosh for this special endeavour. Conosh Classified strives to bring world-class chefs for learning-based culinary experiences to India and make the country a melting pot for global cuisines and world-class talents."
Vaibhav Bahl, the Co-founder of Conosh, said, "Every Indian home has a food story. Chef Gary really understands the nuances of home cooking through his experience in MasterChef Australia. And together with Gary, we want to join this narrative of popularising home cuisines and upskilling home chefs. Chandigarh was chosen for the Masterclass as it is a city of foodies and has a strong food culture."
Talking about future initiatives of Conosh, Vaibhav added, "'Indian stories with Gary and friends' is the next project of Conosh. Simply put, it will be a platform to promote regional Indian cuisines and Gary's dishes - which will be a great fusion. The same is slated to launch from April 2023."
Gary said further, "I am in love with spicy Indian food, particularly oily Punjabi meat dishes. I have been exposed to all kinds of Indian food - be it regional or sub-regional. I came to India first in 2010 and have kept returning to the country with an aim to promote home chefs and empower them. I feel that some of the best cuisine is home-cooked."
"Chef Gary Mehigan's 1-day culinary tour in Chandigarh was a big success. Mehigan's contribution to the culinary world has been enormously impactful, and this is something we wanted our audience to experience first-hand through his specially curated dinner and interactive Masterclass. I want to thank all the partners for their support," said Neha Malik, Co-founder of Conosh.
It is noteworthy that Conosh aims to blend boundaries for global talents in the F&B space.