`Aur Bhai Kya Chal Raha Hai?' to premiere on March 30
&TV presents this light-hearted situational comedy show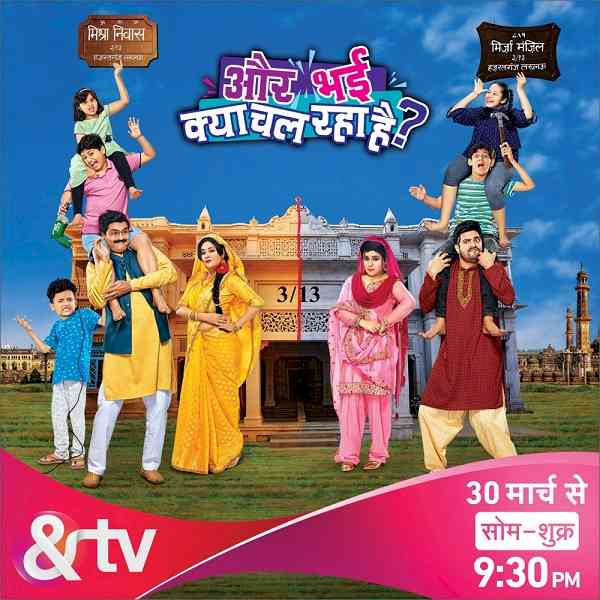 Small talk or conversation starters, as we call it, is a customary way to connect with people to know about them or the happenings in their life. One such conversation starter used every day by most Indians when they meet a friend, neighbour, family, or acquaintance is 'Aur Bhai Kya Chal Raha Hai'! Echoing this culture in a light-hearted narrative is the slice-of-life story of the two families - Mishras and the Mirzas, in & TV's brand-new show, Aur Bhai Kya Chal Raha Hai? It is produced by Amjad Hussain Sheikh of Shade Productions. The show will feature local talents in the lead, with Akansha Sharma as Sakina Mirza, Farhana Parveen as Shanti Mishra, Pawan Singh as Zafar Ali Mirza, and Amrish Bobby as Ramesh Prasad Mishra. Aur Bhai Kya Chal Raha Hai will premiere on March 30, 2021, at 9:30 pm on &TV, airing every Monday to Friday. 
 
Celebrating every facet, flavour, character, and essence of the Lucknowi culture &TV will set a new benchmark in television entertainment with homegrown content, local talent, and production capabilities. Set against the backdrop of Lucknow, the show will give a glimpse of situational comedy that ensues when two culturally opposite families are forced to share a roof, manoeuvre day-to-day concerns of small-town-living and highly competitive wives. The show captures the long-standing Ganga-Jamuni Tehzeeb of Lucknow through the two families – the Mishras and the Mirzas, cohabiting in an old nawabi haweli. Each wishing to own the haveli and not share it with the other leads to constant bickering and amusing scuffles around everyday issues and incidents. 
 
Portraying the harmless jealousy between the neighbouring wives, Shanti and Sakina, and their henpecked husbands – Ram Chandra Mishra and Zafar Ali Mirza, the show will take the viewers through an entertaining and engaging story revolving around these two families who are 'Acche Waqt Ke Sabse Bade Dushman Aur Bure Waqt Ke Sabse Acche Dost.' In all this, will be a neighbourhood Whatsapp group titled 'Aur Bhai Kya Chal Raha Hai' run by the local political leader's domestic help, keeping the Mishra-Mirza housewives up-to-date with all the latest and juicy happenings and gossips in their mohalla and using every piece of information to outdo each other.