Audi A8 L arrives in India
Audi is the German luxury car manufacturer,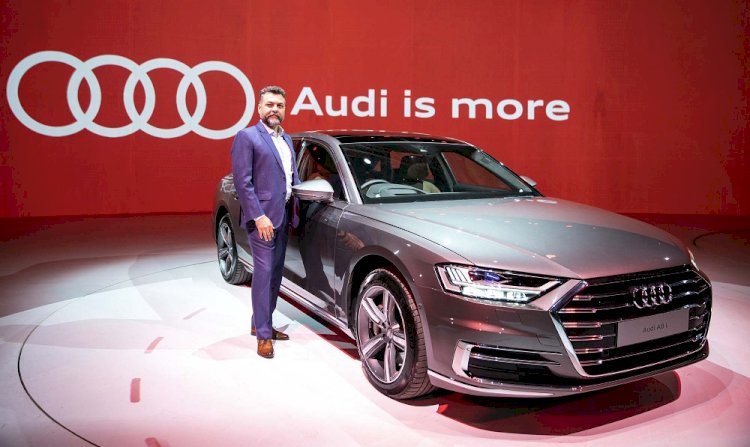 Mr. Balbir Singh Dhillon at the Launch of Audi A8 L.
New Delhi: Audi, the German luxury car manufacturer, today launched the fourth generation of its flagship sedan, the Audi A8 L 55 TFSI in India. The Audi A8 L boasts a 3.0L petrol engine, generates 340hp and 500 Nm of torque propelling the car from 0-100 in 5.7 seconds. In its fourth generation, the new Audi A8 L provides the benchmark for "Vorsprung durch Technik" – with a new design language, an innovative touchscreen operating concept, host of luxury features and infotainment options.Price starts at INR 1.56 Crore onwards.
 
Commenting on the launch, Balbir Singh Dhillon, Head of Audi India, said, "The new A8 L marks the dawn of a new design era for brand Audi.The car is sophisticated, technology and feature rich. We have fundamentally re-engineered the Audi A8 L in its fourth generation – it now boasts larger dimensions and is heavily customizable. We want customers to customizetheir car keeping in mind their likes and requirements and are confident that the new Audi A8 L will witness the same success that its predecessors have enjoyed in the country."
 
Dhillon further added, "We are pushing the edge on modern luxury with a great-looking cabin and an ultra-luxurious rear with features that are irresistible for flagship followers. The A8 L is the epitome of luxury and forms an extremely important part of our product portfolio for 2020 that focuses on the push for C & D segment cars. The A8 L is our third completely new BS-VI compliant model launch after the All-New Audi A6 and Audi Q8."
 
Audi A8 L Highlights at a glance:
New line for the brand: the exterior design and body
  The new A8 L is 5.3 meters long, 1.95 meters wide and 1.49 meters tall.
  Body of the A8 L follows the Audi Space Frame principle.
  Consists of 58 percent aluminium parts increasing the strength significantly in comparison to its predecessor.
  Combination of four different materials embody a new level of multi-material design to the customer's direct benefit and not just in terms of weight reduction.
  Cabin consists of hot-formed steel components, complemented by an ultra-high strength rigid rear panel made of carbon fibre polymer.
  Magnesium strut-tower bar completes the lightweight construction concept.
  State-of-the-art lighting with HD Matrix LED headlights including Audi laser light and rear lams with OLED Technology.
  Superior rigidity of the body provides the foundation for precise handling, excellent ride comfort and the acoustic tranquillity.