ASSOCHAM in partnership with NCW organizes conference on rights of differently abled women
Empowering disabled women is the need of the hour: Keerti H Singh, Chair, ASSOCHAM North Region Women Empowerment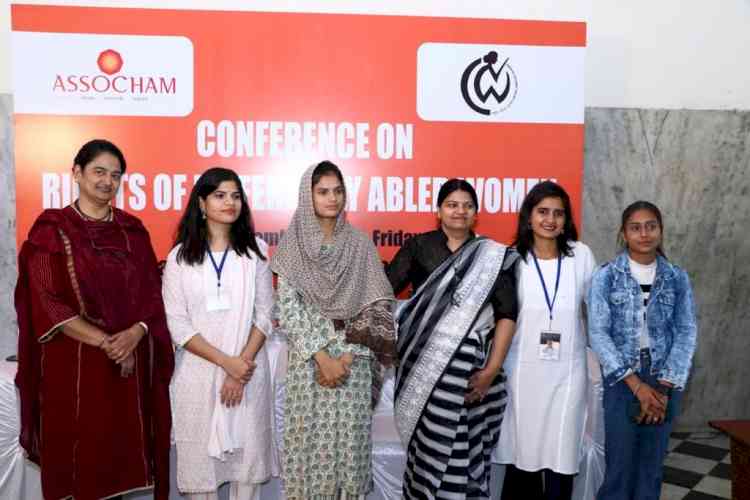 ASSOCHAM in partnership with NCW organized a conference on rights of differently abled women.


Chandigarh, November 13,2022: In a significant move, ASSOCHAM, India's leading industry body, in association with the National Commission for Women (NCW) organized a conference on 'Rights of Differently Abled Women(DAW)' in  Chandigarh. Representatives of over 50 NGOs took part in the conference.
 
"Empowering differently abled women is the need of the hour. The gap between abled and differently abled can be reduced through accessibility. We must come together as a community and work towards providing accessible education, health and employment opportunities and create a space of dignity and inclusion for all," said Keerti H Singh, Chair, ASSOCHAM North Region Women Empowerment and Development Council, and Chairperson, Hartek Foundation. 
As per an estimate, two per cent of the female population have any type of disability, of which 55 per cent are illiterate (Census 2011). These women encounter additional prejudices, discrimination, neglect, violence, and exclusion that hinder their enjoyment of rights. Mrs Singh added that true sustainable development cannot be realized without reaching out to disabled women in general and those from weaker sections of society in particular.
Lauding ASSOCHAM for organizing the conference, Jagannath Singh Jayara, Principal, Institute for Blind, said: *"Differently abled women (DAW) in India continue to face barriers in education, employment, access to and enjoyment of rights, viewed as unmarriageable, unemployable, and unintelligent. Studies have shown that women with disabilities are more likely to be victims of violence than those without a disability. We need to be proactive in our efforts to mitigate their miseries."
Dr Sharanjeet Kaur, Vice President and Chairperson, Haryana Welfare Society for Persons with Speech and Hearing Impairment, stressed the need for assessing the impact of different enabling measures taken so far, technology solutions and options of increasing the efficiencies of their programs. "We need to have the outcome report for devising better ways and means to serve them," opined Dr Kaur.
 
Expressing happiness over ASSOCHAM and NCW coming together to bring multiple stakeholders under one roof, Dr Preeti Arun, Joint Director, Government Rehabilitation Institute for Intellectual Disabilities (GRIID), said that stakeholders should be relentless in their efforts to optimize the use of technologies and other alternatives to empower DAW.
      
The day-long conference involved deliberations on the challenges and opportunities, rights of DAW, latest gadgets and technologies for DAW etc. The objective of the conference was to bring together - policy makers, leading experts, and representatives of the technologies and innovative initiatives for the disabled.
 
Other important panellists who also shared their thoughts in the conference were Shabnam Aggarwal, Founder Director, Anandini; Manjula Sularia, Director, Prasanchetas Foundation; Isha Kakaria, Founder, Tammana; Dr Kuldip Kaur, Director – Research Foundation For Developmental Research, Dr VJS Vohra, Co-Founder and Director, Nevedac Prosthetic Centre; and Dr. Rita Kalra, Senior Medical Officer, Hospital Administration, Quality Coordinator, Civil Hospital, Panchkula State Nodal Officer for IEC National programs, Haryana
 
Many DAW were also recognized during the conference. They shared their inspirational stories. First Deaf Lawyer of Haryana Saudamini Pethe and Swati Jangid, National Award Winner (Empowerment of Person with Disability-PwD) as Best Role Model, Indian Sign Language (ISL) Teacher and International Chess Champion, Eshrat, State Award Winner (PwD), National level Judo player, Sheetal, ISL poetry and translation work, and Nazia, General Duty Assistant, Cheema Hospital, Mohali, Manisha, Serve humanity Serve God Care Center were also felicitated on the occasion.