Assembly's winter session in Dharamshala at Tapovan from Dec 7: Parmar
Special attention will be given to protocol of Covid-19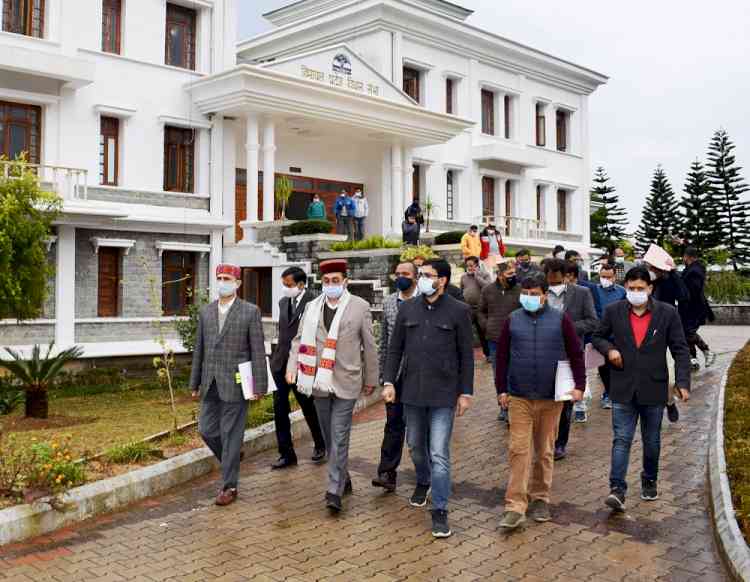 Dharamshala: The winter session of the Himachal Assembly will be conducted from December 7 to 11 at Tapovan, in Dharamshala and during this  special care will be taken of the Covid-19 protocol. This information was given by Vidhan Sabha Speaker Vipin Singh Parmar on Monday after the meeting organized for the preparations for the winter session at Tapovan Assembly Complex. He also inspected the facilities in the assembly premises and gave necessary guidelines to the departmental officers.

He said, "Officials told to maintain  the law and order during the Vidhan Sabha session, police administration has also been asked to prepare a traffic plan so that public in Dharamshala and its surrounding areas does not  feel any inconvenience." He said that there will be another  review meeting on November 29 to get a  view of the preparations with departmental officials in Tapovan.

He said that the Health Department officials have also been asked to set a plan for compliance of the protocol of Kovid-19. He said, "complete arrangements will be made to sanitize the assembly premises at Tapovan before the session and also during the session." As it is the first session being conducted here during corona pandemic, a Covid-19 Testing Center will also be established in the assembly premises. He added that during this period, appropriate number of  doctors and medical staff will also be deployed in the premises. The  social distancing  will be maintained  during the assembly session and it will also be necessary to wear mask to  enter the assembly premises. Dharamshala MLA Vishal Nehria was also accompanying speaker Vipin Singh Parmar.

Himachal assembly has two premises in Shimla And Dharamshala. In December 2006, than CM HP Virbhadra Singh, dedicated this Vidhan Sabha Complex at Tapovan near Dharamshala in district Kangra to the people of the State. The Complex was constructed at a cost of Rs. 7 crore to hold the Winter Session of the State Legislative Assembly in district Kangra. Every year the Winter Session of the State Assembly is being organized here since then.