Asian Games: Spinners of other teams can come hard at India, says Nooshin Al Khadeer
The women's T20 cricket competition at the 19th Asian Games in Hangzhou, China will see the Indian team make an appearance in the event for the very first time after giving 2010 and 2014 editions a miss.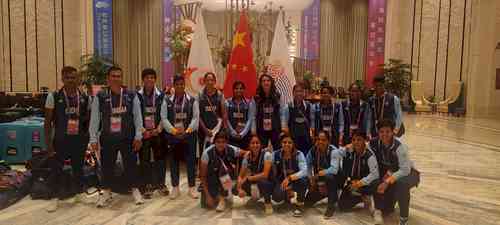 Source: IANS


New Delhi, Sep 18 (IANS) The women's T20 cricket competition at the 19th Asian Games in Hangzhou, China will see the Indian team make an appearance in the event for the very first time after giving 2010 and 2014 editions a miss.
Entering the competition from the quarterfinal stage, India will be aiming to go one step further in the Asian Games after clinching the silver medal in the women's T20 event at the Birmingham Commonwealth Games last year.
Nooshin Al Khadeer, the former India off-spinner, coached the U19 side to the World Cup title earlier this year, apart from having a hugely successful run as the Railways head coach. She also served as the interim coach of the Indian senior women's team on the tour of Bangladesh in July.
In an exclusive interview with IANS, facilitated by Sony Sports Network, Nooshin assessed the Indian team picked for the Asian Games, and the stiff competition it faces from Pakistan, Sri Lanka, and Bangladesh while providing an insight into what youngsters Titas Sadhu and Kanika Ahuja bring to the team.
Excerpts:
Q. How do you see this Indian team shaping up for their first participation in the Asian Games?
A. As an Indian, I would always want India to win the gold medal, because we actually missed the bus in Commonwealth Games last year. It's of course a pride and in terms of the Asian Games, India have always done well in it, we have one of the best teams.
Talking of team combination, it's quite well-balanced, especially with all-rounders coming in like Pooja Vastrakar and Kanika Ahuja. They bring in a lot of depth and with Richa Ghosh coming back, the finishers' role is sorted there.
So, I feel there's a lot of depth in the squad from a T20 point of view. I also think that the captain and coach will find it difficult to choose the playing eleven as there are a lot of players who can provide two skills, which is actually needed in the T20 format.
Q. In the competition, Pakistan are coming after winning 3-0 against South Africa. Sri Lanka are arriving after a 2-1 win over England while Bangladesh also gave a tough fight to India. How stiff a challenge do you see them posing to the Indian team?
A. See, India aren't playing in other conditions; they are going to play in the sub-continental conditions, which are going to favour every Asian team in the competition. So, this can be a challenge for India – like the spinners of other teams can come hard on us.
Plus, Aliya Riaz from Pakistan has been doing a very good job; she recently scored a lot of runs. Bismah Maroof is in peak form, while Chamari Athapaththu has played really well.
Recently, we toured Bangladesh and saw their youngsters really impress everybody with their performances. So, it's going to be tough; won't be easy for the Indian team. But it also depends on how we adapt to the conditions.
Q. Talking of Richa and Pooja, can you elaborate on the strength they bring to the lower-order batting in the competition?
A. Richa is known for her power-hitting and Pooja has also contributed a lot with the bat. We don't have a medium-pace all-rounder like Pooja right now in India. She gives you depth in batting and bowling, and add to it, she's a very brilliant fielder.
Plus, the damage which Richa can do with the bat in the last five overs has a lot of impact in taking the team to a winning position. Like, in one of the T20 World Cup matches, Richa played a knock of this kind as a youngster.
When she sets her eye on it, it then becomes very tough for bowlers to keep her quiet. Plus, Minnu Mani from Kerala is also a very good all-rounder. She bowls off-spin provides the team left-handed batting option, and adds more to the depth.
Q. Titas Sadhu and Kanika Ahuja are the newbies in the Indian team. Can you explain what these two exciting youngsters bring to the table?
A. What I saw in the U19 World Cup was Titas as a young kid raring to go. She has a lot of questions and is basically a question bank. She asks meaningful and inquisitive questions to know what is happening or not. Three-four months back, I saw her in the Emerging Women's Asia Cup tournament and there I saw a different Titas. She was stronger and extremely fit.
In three months, I saw Titas develop from a kid at the U19 level to seeing her show maturity at the Emerging level. I was very glad to see her and I am actually looking forward to seeing what she can get on the table for the Indian team because it's the right time for her to come in. She's been extremely good and not just her bowling, she can also be very impactful with the bat. She can score some runs in the lower order and does sensible batting.
Kanika, meanwhile, has done really well at the domestic level. She had a very good WPL as well, where she played some fabulous innings for RCB. Plus, she was the player of the match in the Emerging tournament against Bangladesh 'A', when she picked three wickets and got a few runs. Kanika is a handy all-rounder and is a very exciting kid. I am really looking forward to seeing these young girls playing some good cricket.
Q. In India's first two matches of the Asian Games, Smriti Mandhana will be leading the side as Harmanpreet Kaur will be serving her two-match ban. How do you see her handling the leadership pressure in the knockout games?
A. She's been an experienced cricketer and one thing we need to understand is that she's been the deputy to Harmanpreet Kaur for a long time in T20s. She was fortunate enough to lead when Harmanpreet was injured in one of the one-dayers and couldn't take the field.
I have seen her that she commands respect and has good and different ideas. As a captain, it's lovely to see her come up with different ideas and is always involved, having seen her and Harman work from very close quarters in trying to get the best out of the team.
Plus, she led RCB and before that, captained Maharashtra for many years whenever she was available. So, it's not going to be tough on her and she can do wonders with the young unit. I have seen her get a lot on the table with her different ideas because as a captain, if you are a little different, you will always be successful, and I see that in her.
Q. Jemimah Rodrigues had a stellar 2023 for India till now. She was impactful in acing the chase against Pakistan in the T20 World Cup and put in an all-round performance in the Dhaka ODI. How vital a player she will be for the side in the Asian Games?
A. She's an exciting person who gets so much energy on the field. In batting, I have seen Jemimah from the closest quarters and the thing I noticed is, she can score 70 or 80 runs and after that, her energy level remains the same after fielding in a 50-over game.
It is the kind of energy level that the girl brings to the ground and she is willing to do anything for the team. Her order has been shifted in batting for quite some time she's sent to open, either bat at number three or five.
At that age, to kinda adapt to those shifting orders is not easy, but Jemimah is very impressive in handling this. Plus, she's a sharp cricketer and is adept at understanding situations, which as a player makes her every captain's delight.
Q. How do you wish to see the Indian team deal with a pressure situation if they encounter it in the tournament?
A. Sometimes what happens that the pressure is taken too much by the seniors. So, now the time has come where the junior players are getting a lot of exposure via the WPL and some of the baggage can be transferred to the juniors as they have played under that pressure. Now it really depends on how these juniors are going to take it forward.
I really believe that for becoming a champion team, what the side is missing right now in terms of medals is you want to carry your own burden rather than depending on juniors who have played 30-50 T20 matches and can handle the pressure, which is why you are able to play for the Indian team.
That belief needs to start coming because the skill level is top-class in the Indian team and I don't see any problem in that. But it's about self-belief and having the belief that the youngsters are able to take the pressure.
The live coverage of India's Asian Games women's cricket quarterfinal will be on September 21 on Sony Sports Network channels & will be streamed live on Sony LIV from 11:30 am IST.