Arun Kumra and Anil Sondhi joined BJP along with their colleagues
District President Rajneesh Dhiman and Punjab BJP Treasurer Gurdev Sharma Debi got hundreds of workers involved in BJP by wearing BJP's gamchha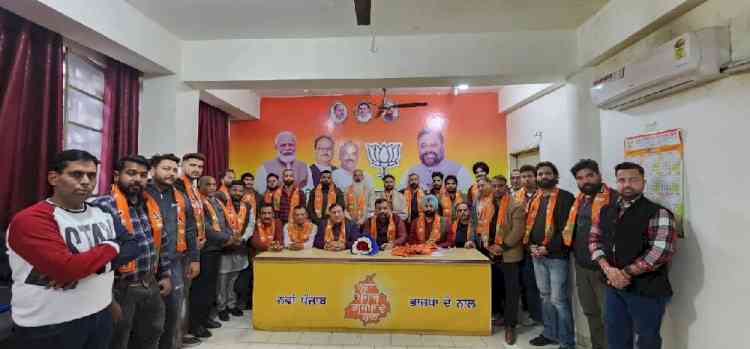 Ludhiana: Under the chairmanship of Bharatiya Janata Party District President Rajneesh Dhiman Dhiman, in the presence of Punjab BJP Treasurer Gurdev Sharma Debi, hundreds of workers left other parties and joined BJP at District Office Ghanta Ghar on Saturday. 
Punjab BJP Treasurer Gurdev Sharma Debi and District President Rajneesh Dhiman got all the leaders to join the BJP by wearing BJP's gamchha. 
Among the leaders who joined BJP are Arun Kumra from Ward No.51, Anil Sondhi from Ward 59, Jagan Singh, Ajay Sabarwal, Naveen Sidhu, Raghu Sidhu, Aman Kumar, Amandeep, Rohit, Ishaan, Gagandeep, Kush, Karan, Sourav, Amandeep, Mandeep Vishal, Nikhil, Karan joined BJP along with their colleagues from different wards. 
Arun Kumra and Anil Sondhi said that being impressed by the people-friendly policies, we have decided to join the Bharatiya Janata Party. Today, the whole country is giving its participation in the continuous development journey going on across the country under the leadership of Prime Minister Narendra Modi. It is the responsibility of all of us to unite and contribute our bit in taking the country forward. Today, if there is any truly institutional political party in the country, it is the BJP. For the challenges that our country is facing, today any party and any leader is most suitable and stands firmly in the interest of the country, then it is BJP and Prime Minister Narendra Modi. 
On this occasion, General Secretary Sardar Narendra Singh Malhi, District Vice President Yashpal Janotra, Secretary Sukhjeev Bedi, Press Secretary Dr. Satish Kumar, Madhopuri Circle President Amit Mittal, Office Secretary Naresh Arora, Lalit Garg, Social Media Incharge Mohinder Khatri, Harsh Sarin, Cashier Atul Jain, Lalit Chauhan, Vijay Khatak etc. workers were present