Area of village in Sri Anandpur Sahib constituency being beautified: Speaker Rana KP Singh
Every suitable basic amenity will be provided to the villages: MP Manish Tewari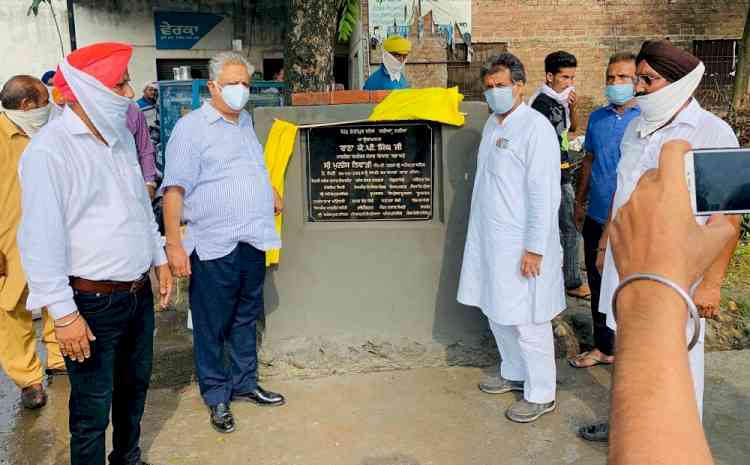 Sri Anandpur Sahib: Continuous efforts are being made to uplift the living standards of the people living in the rural areas of the constituency. Continuing grants for development works are being released, completed on time and are being handed over to the people thus changing the face of the villages.


These views were expressed by the Speaker Punjab Vidhan Sabha Rana Kanwar Pal Singh while inaugurating the development works completed at a cost of Rs. One crore in 10 different villages of Sri Anandpur Sahib constituency today.
Mr. Manish Tewari, Member Parliament, Sri Anandpur Sahib Lok Sabha constituency also graced the occasion.


The two leaders visited these villages today and dedicated their development work to the people.


Speaker Rana KP Singh on the occasion said that the development works in the villages strengthen the village infrastructure. There are also direct or indirect employment opportunities in these villages. This is how the rural areas develop. There is also a boost to the economy of those villages. He said that the face of village in Sri Anandpur Sahib constituency was being changed.
He said that crores of rupees had already been released for the development of this area and there would be no shortage of funds to provide all the basic amenities to the village people.

Inaugurating the development works, Mr. Manish Tewari, Member Parliament said that every suitable basic amenity would be provided to the villagers.

Today Speaker Rana KP Singh and Member of Parliament Manish Tewari at a cost of about Rs. 1 Crore Inaugurated development works at Village Midhwan Upper and Lower , Baddal Lower, Kotla,Gajjpur, Shahpur Bela, Lodhipur, Lodhipur Bas-Chungiyan, Lodhipur-Bas- Baroot, Chalk etc.

Mr. Pawan Dewan , Chairman, Large Scale Industries Punjab, Mr. Ramesh Chandra Dasgurai, Chairman, District Planning Board, Mr. Krishna Devi, Chairperson, Zilla Parishad were present on the occasion.