Arbitration award writing competition by UILS PU
This is first edition of Intra Department Arbitration Award Writing Competition 2020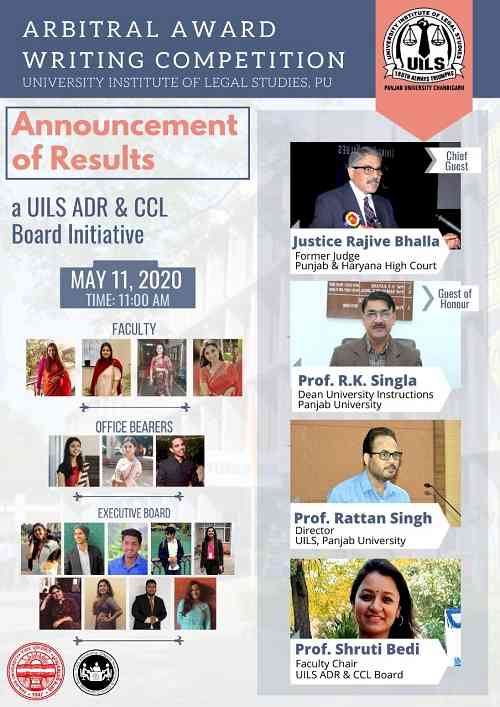 Chandigarh: The Alternate Dispute Resolution(ADR) and Client Counseling Competition(CCL) Board of University Institute of Legal Studies, Panjab University, is announcing the results of the first Arbitration Award Writing Competition on 1th May 2020. 
 
The ceremony will take place through the online medium. Justice Rajive Bhalla will be the Chief Guest. Prof.R.K. Singla,DUI  will be the guest of honour. The event is being organised under the guidance of the Faculty Chair, Prof. Shruti Bedi and the teacher coordinators and Prof. Rattan Singh, Director, UILS. 
This is the first edition of the Intra Department Arbitration Award Writing Competition 2020. This is the first time Arbitration Award Writing was introduced by the board through online aids to make sure students make the most of this quarantine. 
It was well received by the students and the competition saw tremendous response. Demo sessions, online study material and talks by various professionals were made available to the participants to ensure that they are able to put their best foot forward. The final proposition was drafted by the members of the Board as well. As many as 50 entries were received from the participants.