Aptiv announces grand opening of new state-of-the-art campus for its Technical Center in Bengaluru
Technology company Aptiv inaugurates new $14 million campus to accelerate the transformation to the software-defined vehicle and develop safer, greener, more connected mobility solutions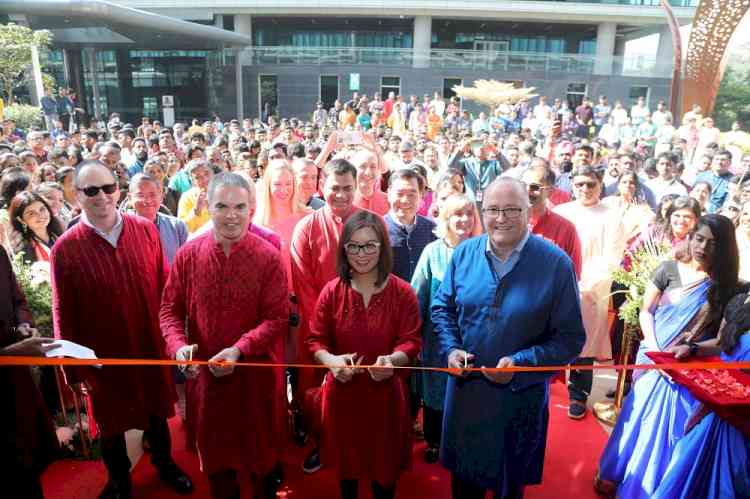 From Left to right - Matthew Cole, Senior Vice President and President, AS&UX; Sophia Velastegui, Senior Vice President and Chief Product Officer; Glen DeVos, Senior Vice President, Transformation and Special Programs.


Bengaluru, February 3, 2023: Global technology company Aptiv inaugurated a new $14 million Technical Center campus in India, one of its largest sites. With a focus on developing safer, greener and more connected mobility solutions, the Aptiv Technical Center in India is a key engineering and software hub. The facility was inaugurated in the presence of the global leadership team, the employees of Aptiv and their families.
The 237,000-square-foot state-of-the-art campus is located at Brigade Tech Gardens, Whitefield, Bengaluru. The Aptiv Technical Center India (TCI) currently employs over 2,000 personnel focused on developing and delivering products and software-enabled solutions, and plans to aggressively grow its workforce over the next five years. The team has expertise in cybersecurity, advanced safety, connectivity and digital cockpit capabilities. The site serves as a center of excellence for ADAS platforms and technologies and digital cockpit solutions. In addition to meeting the needs of commercial and passenger vehicle OEMs in India, TCI will support OEMs across all global regions. 
The campus brings together Aptiv's broad range of technology, innovation and capabilities in a modern environment designed to accommodate the needs of its future workforce. It houses an innovation center and electrical labs to support the development of critical technology products. The facility is designed to support increased collaboration, with an open-concept workspace and social hubs. TCI is well-connected with business districts and aligns to Aptiv's global sustainability and carbon neutrality targets.
At the inauguration, Glen De Vos, Senior Vice President, Transformation and Special Programs, Aptiv said, "Aptiv is committed to India, and the opening of our new Technical Center in Bengaluru marks another milestone since establishing our presence in India nearly three decades ago. Over the past few years, Aptiv TCI has made significant investments, doubled its workforce, and accelerated the impact provided to Indian and global OEM customers. The new facility will support the development of critical technology products – and at the same time, better support our valued employees who work on cutting-edge technologies to drive innovation and solve our customers' toughest challenges. The Technical Center India will play an important role in our efforts to accelerate the digital transformation and enable the software-defined future of mobility."
Amitabh Mathur, President & Managing Director, Aptiv India & ASEAN added, "India is a thriving economy with great potential for growth, and a highly skilled talent pool, making it an attractive market for this expansion and investment. The new Technical Center in Bengaluru demonstrates Aptiv's commitment to expanding its footprint in India. With a mission to build a future with zero collisions and zero emissions, we will continue innovating and defining the latest technologies for our consumers."