Apeejay College of Fine Arts organised musical afternoon 
Celebrate 75th anniversary of the formation of UNO promoting peace and love amongst all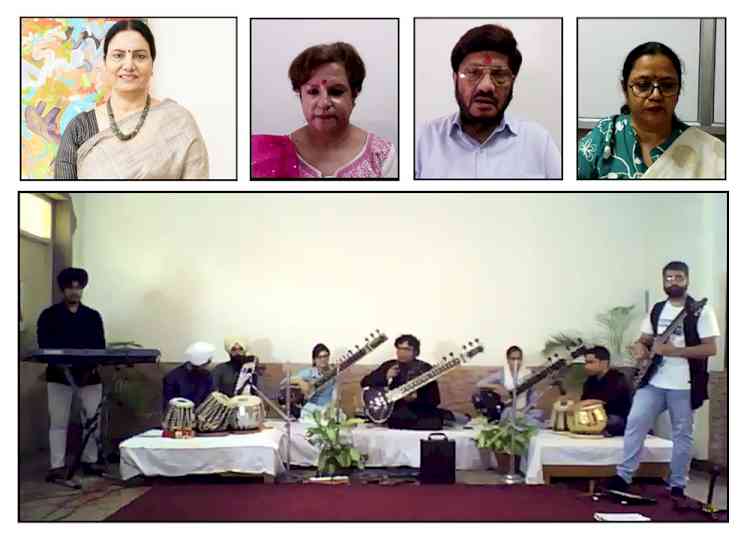 Jalandhar: Apeejay College of Fine Arts, Jalandhar organised a musical afternoon in order to celebrate 75th anniversary of the formation of UNO promoting peace and love amongst all. "Raganjali Ensemble" – an Initiative by Mr. Smarajit Kumar Sen from Department of Music Instrumental and his students created a magical and soulful environment by playing various melodies advocating 'guru shishya' tradition of our nation which is highly regarded by everyone around the globe.

The soulful blend of traditional and contemporary dhuns.( compositions), various melodies were played beginning from Stuti- an offering to Goddess Saraswati followed by Raag Charukeshi with the variants from Arabian dhun based on Raga Basant Mukahri. The students who accompanied Mr Sen were- Ridhima Nagpal on Sitar, Jasleen Kaur on Sitar, Agam Shingari on Tabla , Sahibjeet Singh on Sarangi, Vivek Verma on Guitar, Parmeet Singh on Keyboard and Amandeep Singh on Tabla.

Dr. Arun Mishra, Cultural Advisor expressed his gratitude towards Dr. Sucharita Sharma, Director and Dr. Sunit Kaur, Officiating Principal for always extending their support and guidance to the college and its faculty and encouraging art in every possible way.

Dr. Seema Sharma extended Vote of Thanks expressing the gratitude and providing the brilliant opportunity to explore the field of music.

Dr. Sucharita Sharma, Director appreciated Mr. S. Sen and his students for making the afternoon magical with their soul enriching compositions. She congratulated the entire department for successfully organising this musical time.