Apeejay College of Fine Arts felicitated with honour of being Best Fine Arts College in North India 
The facilitation done by Centre of Education Growth and Research at 13th Rashtriya Shiksha Gaurav Puraskar Ceremony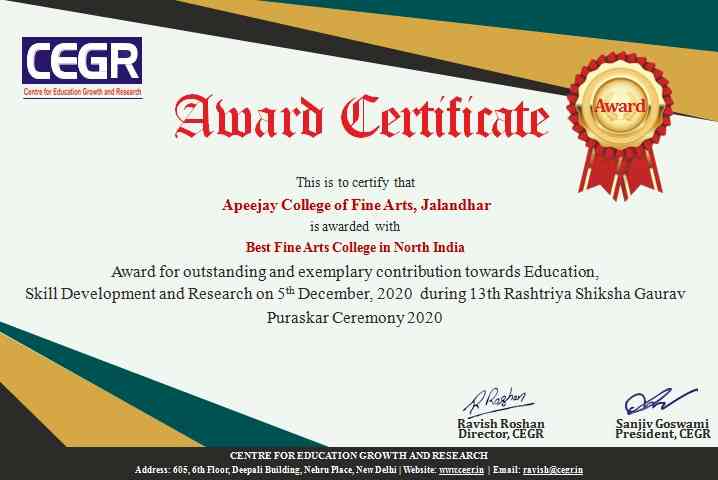 Jalandhar: The Apeejay College of Fine Arts, Jalandhar has been felicitated with the honour of being the Best Fine Arts College in North India by Centre of Education Growth and Research at 13th Rashtriya Shiksha Gaurav Puraskar Ceremony.
Principal Dr. Neerja Dhingra expressing her ecstasy over this achievement gave the credit of this success to Dr. Sushma Paul Berlia, President, Apeejay Education Society. She added this proud moment is the result her excellent leadership and farsightedness. She mentioned today the students of College are at covetous positions not only in top metro cities, Bollywood but also in foreign lands; they are making their college proud.
She also mentioned the noteworthy efforts and dedication invested by Dr. Sucharita Sharma, Director , Apeejay Education Society for taking the college to such heights. She shared that in future too we will keep working and leave no stones unturned to keep shining and adding more successful moments and achievements in the golden book of Apeejay. 
Principal Dr. Neerja Dhingra shared that College has achieved this success especially due to the Quality Education, Skill Development Courses and Quality Research it advocates and promotes.