Apeejay College of Fine Arts celebrates Teacher's day online
The celebrations were concluded with few fun riddles posed by students for their teachers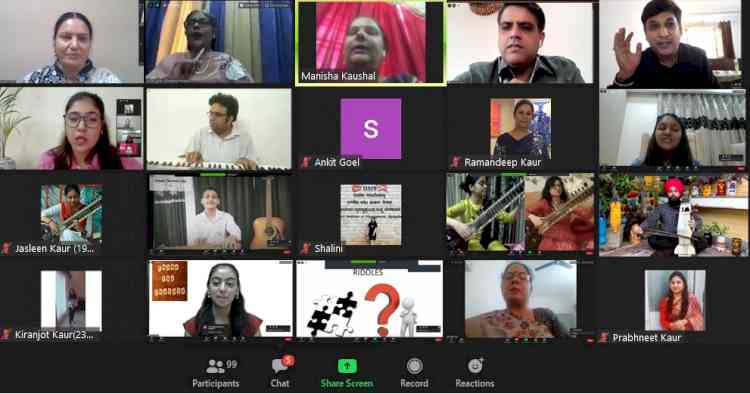 Jalandhar: The students and Teaching fraternity of Apeejay College of Fine Arts, Jalandhar celebrated Teacher's day online. Even amongst the pandemic, the students did not forget to show their affection and regards towards their teachers who are making every possible effort that the show must go on and this crisis should not affect the education of students which they deserve. They presented a collaborated video of various students of different classes where they sang and expressed their affection they have for their teachers. They dedicated various songs for them.

Prachi of BA Semester 3rd in her speech talked of the efforts College and faculty is making to impart them the quality education. She on the behalf of every student of Apeejay thanked Dr. Sucharita for the great leadership skills and for taking care of them in each and every possible manner. 

Dr. Sunit Kaur, HOD, English highlighted the role of teacher in the modern day as it has changed and transited in the cotemporary times. She put forth teaching is no longer a one way road but it has today become a two way road because it is just not the teachers who are teaching but the students are also teaching them in their ways It is the students through whom we are learning and upgrading ourselves as per the latest demands.

She also put forth that even the tiniest of efforts which students make for them fill them with tremendous amount of affection.
Dr. Anjana Kumari, Department of Hindi expressed her views on the pure relationship of a teacher and student on this occasion. She quoted the examples from the history and talked of how Karan from Mahabharata, Kabeer, the eminent poet and Swami Vivek Anand Ji, a renowned personality found their true gurus. Even if the education was denied to them initially, they did not give it up and finally proved themselves to be the worthy of their disciples. 

Mr. Smarajit Kumar Sen, Department of Music Instrumental along with his students presented a beautiful instrumental composition and Dr Vivek Verma, Department of Music Vocal and his student too dedicated a song on this eve.

Principal Dr. Sucharita Sharma expressed her gratitude towards the students for appreciating their efforts and ensured them that they are with them at every step and will leave no stone unturned to make their dreams reality. She put forth that how she is nostalgic of the old days before COVID 19 came in our lives and hoped that soon we will see them along with the energy and enthusiasm they have in them. On this occasion, she appreciated the efforts of her staff as well who in spite of this crisis never failed to fulfil their responsibilities and acted like warriors.

She also read Ms Sushma Paul Berlia's message for the staff where she congratulated and paid a compliment to each and every staff member for fulfilling their assigned roles diligently.

The celebrations were concluded with few fun riddles posed by students for their teachers and vote of thanks by Dr Jagmohan Mago, Dean SWA.

The entire celebrations took place smoothly under the directions of Dr. Manisha, Dean Functions, Ms. Simkee Dev, Dean NSS and Dr. Jagmohan Mago, Dean SWA.

Principal Dr. Sucharita Sharma congratulated everyone.