Apeejay College of Fine Arts celebrates 71st Republic Day
Student Welfare Association organised this event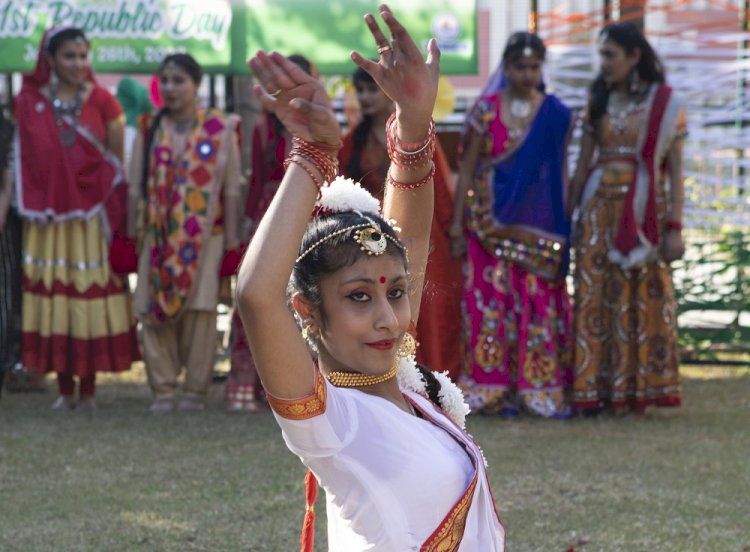 Jalandhar: Apeejay College of Fine Arts, Jalandhar celebrated 71st Republic Day. Student Welfare Association (SWA) organised this event. The whole campus was engulfed with tri colours of flag and the enthusiasm and joy during the National Festival.
The celebrations begun with the welcome of Principal Dr. Sucharita Sharma under whose leadership, the event took place. Addressing the gathering, she put forth that ours is the country which is diverse, liberal and federal at the same time. Talking of youth, she added "You are our tomorrow's future" and they especially need love their country and recognize the privilege and freedom provided by it and work for it's evolvement. Principal Dr. Sucharita Sharma on this occasion also appreciated NSS wing of the college and Dr. Apra, Dean NSS along with her team who carried out Cleanliness Drive in the city and not only cleant the streets of the city but also awared the general public.
All the students and faculty along with Dr. Apra took oath to keep their surroundings and city clean. Under the guidance of Mr. Vishavbandhu Verma, students also did a panel discussion on the vibrant and hot topic prevailing in the country i.e. "Citizenship Amendment Act (CAA)" where the students put forth their views for and against it. A choreography reflecting the variant shades and cultures of India was done by students. Various other competitions as Slogan Writing, face painting, Poster Making and Singing competition were also organized in which students participated enthusiastically.
Principal Dr. Sucharita Sharma congratulated the winners and awarded them with prizes along with Dean SWA Dr. Jagmohan Mago and his other team members.
Results are as follows:
Competition

Judges

Winners

Singing

Ms. Ramandeep Kaur

Dr. Apra

I - Rohit, B.Com Sem 2

II – Parwartan, B.Voc (Sound Tech.)

Face Painting

Dr. Jeevan Kumari

Dr. Rimpy Parmar

I –  Parminder, B.Voc (B & W) Sem 1

II – Kriti Sodhi, BFA Sem 4

Poster Making

Mr. Anil Gupta

I - Abhinandan, B.A. Sem 2

II – Aastha, B.Com Sem 2

Slogan Writing

Mr. Sandeep Singh

I – Lakshay Abbot, B.Com Sem 2

II – Sukhman Singh, BDM Sem 2

Best Speaker in Panel Discussion

Mr. Vishavbandhu Verma

I – Palak and Nandita

II – Saloni and Rashi