Anupam Kher addressed FLO members at their annual general session and spoke on power of positivity
Says his Work rejuvenates him me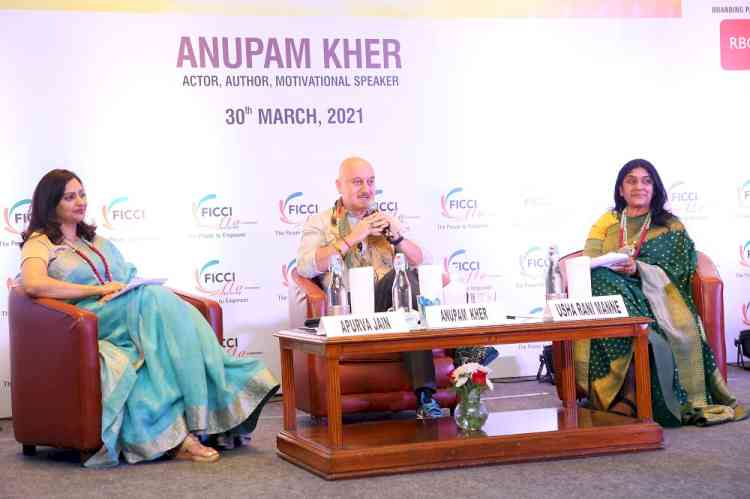 Apurva Jain, Anupam Kher, Usharani Manne at the Session of Power of Positivity.
Hyderabad: Anupam Kher addressed FLO & YFLO members at their Annual General Session held at Hotel Grand Kakatiya on Tuesday and spoke on 'The Power of Positivity'
 
He was at his best in his witty conversation and cute remarks. The 100 plus audience split into laughter several times during his talk.
 
Moderated by Usharani Manne and Apurva Jain, Chairpersons of FLO and YFLO, Mr Kher started off sharing his thoughts he has gone through the phase of his debut film he said, "I graduated from National School of Drama. I never got more than 38% marks in my studies. I learnt then that acting could be taught'.
 
Showing his head, he said, 'it is shaved look and not bald head. Recalling his initial days of acting career, he said an actor was not supposed to be bald. Those were the times where 'hair was more important than talent' he remarked wittily.
 
Acting is emoting 9 rasas. What is the difference between an actor and a normal person is, actor know emotions before he has to portray them", he said. It helps trained actor to do all kinds of roles, he added.
 
On speaking about our young actors, he said, they easily play the roles of Brad Pitt and the likes but not the other way round. That is the beauty of Indians acting talent.
 
I am happy to be myself he declared. Not many actors get an opportunity to represent their country like sports stars do. But I have that privilege he said and added, 'I give my best. That makes me feel better'.
 
People in our country started describing me as thespian, legend and all such superlatives. It was frightening. That is when I excused myself to pursue more challenging role in New York, Mr Kher informed.
 
On personal note about his relationship with his spouse Kiran, Mr Anupam Kher said, 'she is much more talented than I am, she is better artist than I am. She is a Post Graduate, MA first class. I am BA 3rd class. She has long hair; I have no hair. Once you accept all these, life is easier he shared amidst peals of laughter from the audience. We have mutual respect for each other. It is better to treat partner/spouse as a friend. That solves all problems, he shared his secret of relationship.
 
When asked him about time management as he has been wearing many hats, he said busy man has time for everything. I am sick of using words such as busy, bore, mood etc. They give false sense about a person he said.
 
I love life. I don't judge people. Life is beautiful. My work rejuvenates me. I never took off from my work life in so many years.
 
Replying to a question on physical pain he was going through with his twisted face while shooting for Hum Aapke Hai Kaun, Mr Kher said he took decision against doctors' advice to go for shooting. Fear of fear stops us. I wanted to go ahead with it because life is about how we find our courage. And he said not just me, India as a country has done well. We have been the world's guru not just medically in the current crisis but also on courage front.
 
We have planned well but COVID had disposed. Though beginning found to be foggy road ahead. We made technology our weapon of peace and forged ahead undeterred, focused on reaching old milestones and creating new ones, said Usharani Manne, Chairperson of FLO Hyderabad
 
'The Power of Positivity' prevails…despite everything, that is why today's topic for our guest speaker Mr Anupam Kher, she said.
 
Speaking further Usha added, Hyderabad is the largest Chapter in the FICCI FLO universe. With over 800 members most of who are entrepreneurs, and professionals who have made a mark in the business and corporate world.
 
Ms Apurva Jain, Chairperson of YFLO briefly highlighted various programs she has taken up during the past one year
 
Mr. Kher unveiled Internal/house magazines of FLO & YFLO.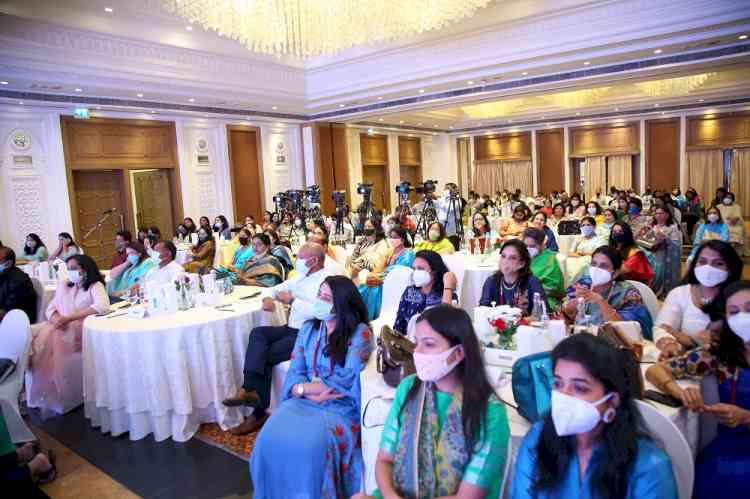 Participants seen at the 21st Annual General Session of 2020-2021 of FLO and YFLO.