Anukama Fashion Show of NIIFT Mohali held
Admissions to NIIFT centers are open and the last date of submission of applications is 04th June 2023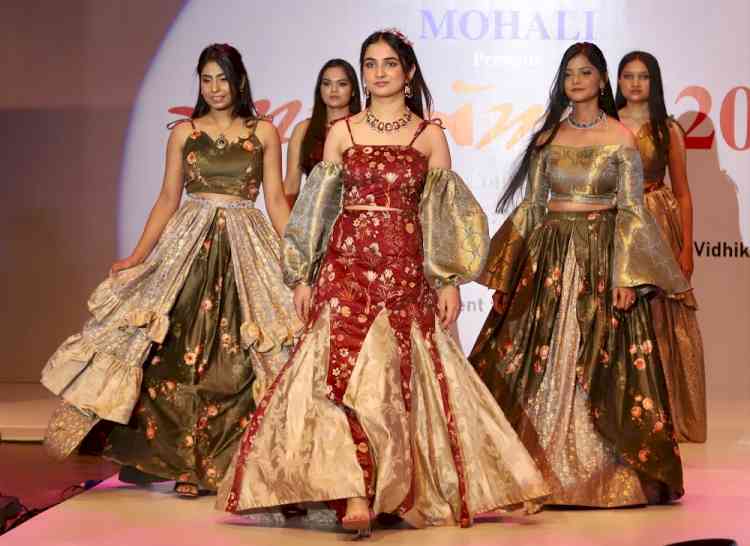 Fashion Design students of Northern India Institute of Fashion Technology, NIIFT, Mohali, showcased their collections at a fashion show Anukama 2023 held at Tagore Theatre, Chandigarh.


Chandigarh, June 3, 2023: Beautiful models of NIIFT took the stage by storm this evening to showcase the 49 hands-on beautiful collections created by the graduating fashion design students of Northern India Institute of Fashion Technology (NIIFT) Mohali during "Anukama'2023" held at Tagore Theatre here. It was announced at Anukama 2023 that admissions to NIIFT centers are open and the last date of submission of applications is 04th June 2023.  It is noteworthy that NIIFT is an accredited, diverse, and expanding college of Design, Management and Technology established in 1995 and has grown to be one of India's premier institutes. NIIFT provides B.Sc and M.Sc and M.Des Degrees. NIIFT is under the administrative control of the Department of Industries and Commerce, Punjab.

Meanwhile, the Fashion Designing students were guided by their mentors- Dr. Poonam Aggarwal Thakur, Dr. Simrita Singh, Dr. Deepti Sharma, Navdeep Kaur and Puneet Khokhar. The students did their projects  with well known companies of the fashion industry.  An eminent jury made up of Fashion, Apparel and Textile Experts evaluated the designer collections created by the students.
 
Charandeep Singh, PCS & Director NIIFT said "Students used the platform of Anukama to present their signature style. They put in their best work which could be seen in the collections presented."
Ravinder Garg, Registrar NIIFT said "Anukama Fashion Show has become a hallmark event, reflecting the unwavering commitment of NIIFT Mohali to nurture and empower the next generation of fashion industry leaders. This year's edition featured curated collections from our final year students, highlighting their exceptional craftsmanship, unique vision, and deep understanding of contemporary fashion."
 
Dr Poonam Aggarwal Thakur, Principal, NIIFT Mohali said "This final collection is a virtual reality and integration of the learning, hard work and toil of the students of Fashion Department, who have put in their time, energy and their sense of inspired designs that has been imbibed by them during their course of study in this institute."
"We feel proud that NIIFT students walked the ramp, 35 female and 6 male adding the glam quotient to the students' creations." Said Ms. Navdeep Kaur, Show Coordinator, Anukama 2023 & HOD, Fashion design department.
The glamorous student models of NIIFT who have walked the ramp were  Shalini, Bhawana, Khushi Biyani, Yahika, Shreya Chaudhary, Rishika, Siddhi, Gungun, Diksha, Shahbaz, Isha ,Vidhika, Shobita, Richa, Arsh, Parinaz, Arushi, Vanshika, Neha, Harleen.  The Anukama'2023 show was Choreographed by Ms.Navdeep Kaur.
The runway came alive with a fusion of tradition and modernity, as talented designers explored diverse themes and materials, infusing them with their personal interpretations. From vibrant couture to sustainable fashion, the Anukama Fashion Show 2023 showcased the immense potential of students, providing them with a platform to shine and express their creative prowess.
The ensembles presented were breathtaking. Details of some of the students and their awe inspiring collections are listed below:
1.     Name of the Student -Shruti
Collection- Lost heritage based on Ukraine art and craft.
2.     Name of the Student -Anshika  
    Collection- 'The Botanical Print'.
3.     Name of the Student-Keshav Mangal
Collection- He has created a collection for the LGBTQ community named    'Immure'.
4.     Name of the Student - Hansika Jain
Collection - She created a collection to bring upfront the Shakespearean love story of Romeo and Juliet.
5.     Name of the Student -Manthan
Collection - Inspired from fashion of the 70's.
6.      Name of the Student -Kritika Gupta 
Collection - Japanese art under the title Kabuki – the people's art which she created using the innovative technique of batik, dyeing and printing & with motifs taken from Japanese paintings.
7.     Name of the Student - Sukriti.
Collection- 'The fragrance of village' showcased the art of Madhubani of Bihar.
8.     Name of the Student-  Pamilpreet Kaur
     Collection - Maa Boli, collection inspired from Punjabi language.
9.      Name of the Student-  Charvi
Collection- Theme- Old school drift.
10.  Name of the Student-  Shreya
Collection - Plastic nourishment- talked about breastfeeding related problems.
11.  Name of the Student-  Nitya Sehgal
Collection - "De'Nimes to denims – the Imperishable."
12.  Name of the Student: - Pol Jayshree
Collection - 'Paithani Saree Revival' ensembles with amazing draping techniques.
Fashion Design Awards Details-
1)    BEST DESIGN COLLECTION-   Ms. Tamanna
2)    BEST GARMENT CONSTRUCTION- Ms Shreya Shubhraja
3)    BEST COMMERCIAL COLLECTION- Ms. Moksha
4)    MOST CREATIVE COLLECTION – Mr. Keshav Mangal
5)    BEST USE OF CRAFT IN DESIGN- Ms. Kritika Gupta
6)    BEST USE OF ART IN DESIGN – Ms. Sonali Bajpai