Another crackdown launched by excise team
1,25,000 litres of lahan, manufacturing unit, 26 plastic tarpaulins and 10 iron drums in Harike Area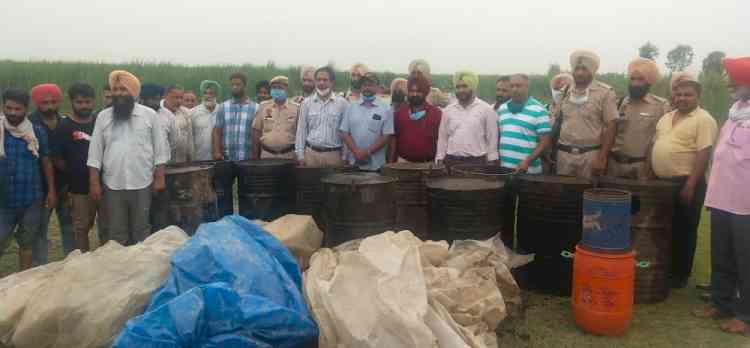 Ferozepur: Further tightening the noose against the illegal liquor trade and hooch dens, the joint teams of Excise Department of Ferozepur and Tarn Taran divisions on Monday morning during a major crackdown seized 1,25,000 litres of lahan along with 26 plastic Tarpaulins and 10 iron drums.
Giving details about the crackdown, Deputy Commissioner (Excise) J.S. Brar said that under zero tolerance policy against illicit liquor trade, teams of Excise Department conducted raids in the areas at the confluence point of river Beas and Sutlej at Harike and seized and destroy 1,25,000 litres of Lahan along with one manufacturing unit (Bhatti), 26 Tarpaulins and 10 iron drums, which were being used for manufacturing and storage of Lahan.

He said that the teams had launched the search operations at early in the morning adding he said that the raids were led by ETO (Excise) Ferozepur Karambir Singh accompanied by ETO Excise Tarn Taran Manveer Butter, Excise Inspector Amanbir Singh and Ashok Kumar. Range Officer of Harike bird sanctuary Kanwarjit Sigh was also present there. He said that the department taking further action has booked the bootlegger.

Brar said categorically said that the illegal liquor trade would be dealt with heavy hand and the people indulged in such practices would not be spared at any cost.

Meanwhile, In another two separate cases, two persons were booked by CIA staff following the recovery of 2000 litre lahan at Village Khunder Gatti (FIR No.s 160 and 161). The accused identified Shera and Gurmail Singh were allegedly manufacturing lahan in Sutlej area. Following the inputs, the raid was conducted by the CIA officials.