Annual sports day at Ludhiana Group of Colleges
Events filled in hearts of everyone with spirit of sportsmanship and unity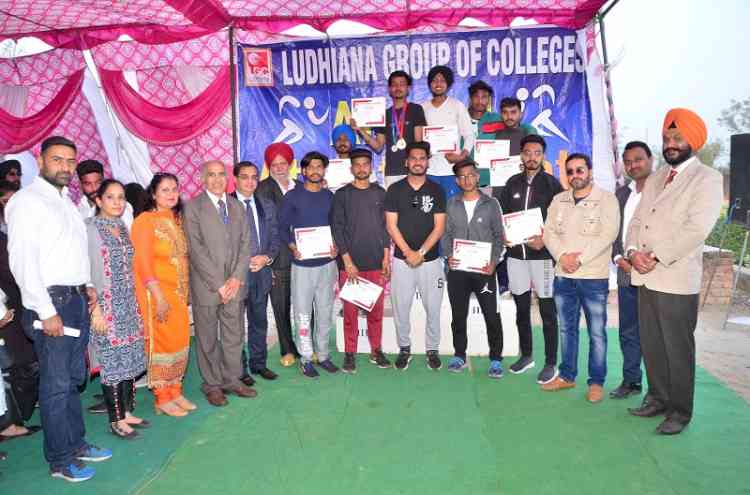 Ludhiana: Annual Sports Day was celebrated with great zeal, excitement and frolicsome atmosphere, at Ludhiana Group of Colleges, Chaukimann. The spirit of the occasion was ushered in with a grand reception of the Chief Guest, impressive march past, hoisting of sports and institutional flag.
The celebrations began with a lightening of the sports torch and with oath taking ceremony.  Mr. Kunda Singh Dhaliwal was the Chief Guest for the occasion, declared the Annual Sports meet open along with Management of college Mr. Gurmeet Sachdeva ,Mr. Rajiv Gulati ,Mr. Vikram Grover, Dr. J K Chawla (Director) ,Dr. Nishi Bala (Principal Management), Dr. Rakesh Kumar (Principal Engg.) and Er. Manmeet Singh Gill (Principal Polytechnic)
Students competed in various events including Long jump, Javelin throw, Shot-put, Discuss throw, Relay race, Badminton, Chess, Volleyball, Slow Bike race and Recreational games (Lemon race, Sack race,3 legged race, Tug of war, Balloon race, Matka race, lemon race) with boundless zeal and enthusiasm. Jaswinder Singh (BCA-2) declared as best athlete in boys and Amandeep Kaur (MBA-4) declared as best athlete in girls.
The events filled in the hearts of everyone with the spirit of sportsmanship and unity .The students displayed a wide array of colourful and reverberant events. They mesmerized the audience with their energetic performances.
LGC thanked everyone who contributed their services either directly or indirectly
for the grand success of the mega event. Sports day ended with National Anthem.