Annual prize distribution of Lyallpur Khalsa College 
College principal presented annual report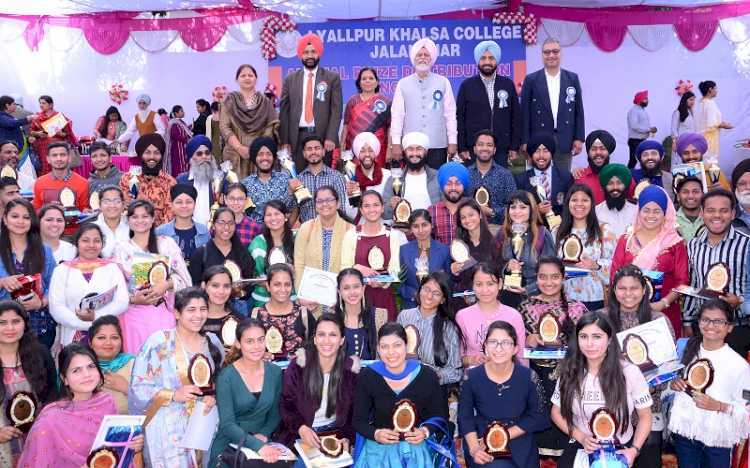 Jalandhar: Meritorious students of Lyallpur Khalsa College were duly honored for their endeavors in the by virtue of the Annual Prize Distribution function held today. Dr. Urmila Devi, Joint Secretary, University Grants Commission (UGC) was the Chief Guest on this momentous occasion and she was duly welcomed to the college with a bouquet of flowers by Principal Dr. Gurpinder Singh Samra, Prof. Jasreen Kaur, Dean Academic Affairs and the assembled dignitaries. 
Mr. Jaspal Singh Waraich, Joint Secretary, Governing Council formally welcomed the Chief Guest and reiterated the commitment of the institution to quality education, useful research and all round development of students. 
Presenting the annual report of the college, Principal Dr. Gurpinder Singh Samra highlighted the achievements of the college in Academics, Cultural activities and Sports and the innovations put forth by the institution along with the further steps being taken by the college in all fields. 
Dr. Samra also informed about the college's brilliant performance in the 3rd cycle of the NAAC re-accreditation as a major landmark for the institution. Addressing the students, Chief Guest Dr. Urmila Devi urged the young achievers to work hard for the achievement of their further goals in life. She appreciated the Management, Principal and Staff of the institution for their endeavours in providing value based education to their students. Congratulating the students, she wished them good luck for their initiation into a competitive world full of endless opportunities. Thereafter, the chief guest along with the dignitaries on the stage conferred certificates and trophies to 410 students who excelled in the fields of academics, cultural activities and sports throughout the session. 
On this occasion three students of the college namely Jaspreet Kaur, Udaivir Singh and Harjot Singh were given the Roll of Honor in Academics, Sports and Cultural fields respectively along with a cash prize of Rs. 32,000 by Dr. SPS Virk. Members of the college staff namely, (Professors) Dr. Gopal Singh Buttar, Dr. Arun Dev Sharma, Dr. Baldev Singh, Dr. Gurpreet Singh, Dr. Parmod Sharma, Dr. Dinkar Sharma, Dr. Geetanjali Mahajan, Dr. Palwinder Singh and Dr. Salinder Singh were honoured for their research degrees and other contributions to the field of research whilst Mr. Makhan Singh and Mr. Ram Baran from the Non-teaching staff were also honored for their services. 
The occasion was also marked by the presence of Mr. Jagdeep Singh Shergill, Bhupinder Singh Maan, Member Governing Council, and the entire staff of the college. The stage from the microphone was managed by Prof. Mansi Chopra and Dr Upma Arora. Vote of thanks was presented by Prof. Jasreen Kaur, Dean Academic Affairs.