Annual meeting of Arya Shiksha Mandal held
Arya Shiksha Mandal achieving new heights under guidance of Chander Mohan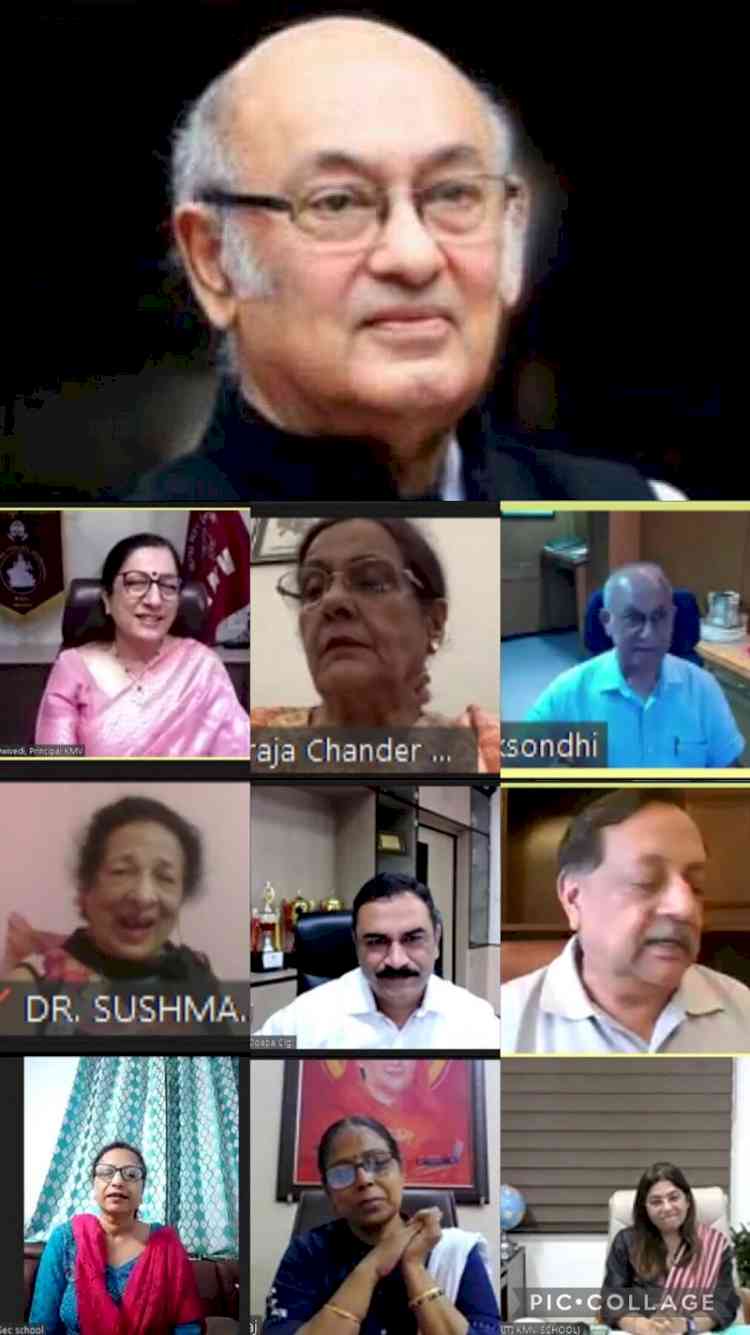 Jalandhar: The annual meeting of Arya Shiksha Mandal was held to review the working of various institutions being run by Arya Shiksha Mandal. It is pertinent to mention here that Arya Shiksha Mandal, a registered educational society which is running various renowned educational institutions is achieving new heights of glory under Chander Mohan's exemplary leadership. Arya Shiksha Mandal is flawlessly managing all these institutions with more than 10000 students, 500+ teachers and 1000+ employees. All these institutions are giving exemplary services in educational sector to all sections of the society.  
Chander Mohan -the noted journalist  and acclaimed personality of Punjab has served as the President of Arya Shiksha Mandal for more than three decades now. He is the  descendant of an  illustrious family which has been serving society with their philanthropic ventures. His father Varinder, was also the erstwhile President of Arya Shiksha Mandal. 
The meeting started with chanting of mantras, seeking divine blessings. 
Prof. Atima Sharma Dwivedi, Principal KMV made a presentation showcasing activities and achievements of the glorious institution during 2020-21 session. 
Chandra Mohan President, Arya Shiksha Mandal richly congratulated Prof. Atima Sharma Dwivedi for her impeccable leadership which has made KMV scale unprecedented heights of success. 
Alok Sondhi, General Secretary, KMV Managing Committee also lauded Prof. Atima Sharma Dwivedi for her outstanding performance as the Principal of the premier seat of women empowerment, KMV. He exhorted her to continue her noteworthy  and worth emulating initiatives which have fetched laurels for KMV. 
Next presentation was made by Dr. Pradeep Bhandari the newly appointed Principal of Doaba College, followed by presentations by the principals of Dev Raj Public School, Jullundur Model School, Dev Raj Sr. Sec. School & Sanskriti KMV School. 
During the annual meeting of Arya Shiksha Mandal all the office bearers and other members richly lauded Chander Mohan for his selfless service as President, Arya Shiksha Mandal. Prof.(Dr.) Atima Sharma Dwivedi, Principal KMV averred that as the President of Arya Shiksha Mandal, Chander Mohan has brought tangible and intangible improvements to the education scenario. 
Chander Mohan's vision, dedication, philanthropy, remarkable and notable qualities of head and heart have been instrumental in empowering thousands of youth particularly women. 
Prof.(Dr.) Atima Sharma Dwivedi further maintained that it is by dint of the exemplary leadership of Chander Mohan that KMV has been able to pursue excellence and bestowed with Heritage Status, Top Rankings in India Today 2020 & Outlook Magazine survey 2020, Autonomous Status, Star College, College with Potential for Excellence and the list is endless. At this juncture, all members of Arya Shiksha Mandal including Dr Sushma Chawla, Vice President, Dhruv Mittal, Treasurer, Neerja Chander Mohan, Dr Sushma Chopra, Dr SP Gupta & Dr Deepali Luthra reposed faith in the leadership of the stalwart Chander Mohan and adumbrated that Arya Shiksha Mandal will continue to excel under his guidance and support.