Annual award distribution ceremony at DAV College
Chief guest says there is no shortcut to success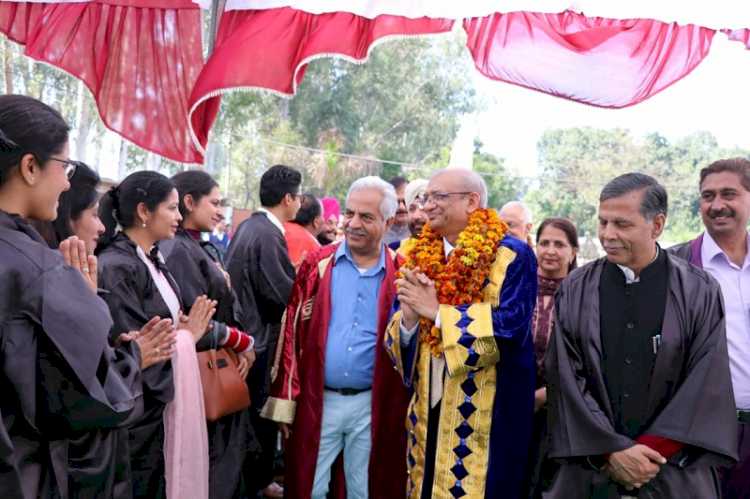 Jalandhar: An annual award distribution ceremony was held today at DAV College, Jalandhar. The chief guest was PK Gupta (MD of State Bank of India). 
Welcoming everyone, Principal Dr. S.K Arora highlighted the activities and achievements of the college and said that the college has played an important role in improving the socio-economic condition in the society. DAV College is a leading institution among various colleges in the country. The college's flexible and easy to understand high quality teaching and research caters to the needs of diverse individuals of the society. 
Adding, Dr. Arora said that the entire DAV family is feeling proud to have the world renowned and distinguished personality PK Gupta among them. He addressed PK Gupta as a very dedicated, hardworking person. 
Speaking on the occasion, PK Gupta said in his speech that he is very proud that he has been honoured by his alma mater and an excellent educational institute of the country. He added on being invited by his alma mater, he is very happy and expressed his respect and thanks to the college. He added he is very happy with the overall development of DAV College. 
Gupta recalled some of the moments spent in the college during his college day. He added he had studied in this college during 70s. He said the students studying presently in the college are very lucky because they are studying in an educational institution having glorious history of 102 years. He named a few legends who studied in the  college and earned name and fame in different fields.
Further, Gupta said that there is no shortcut to success and hardwork will give one a new path for the future. He motivated the students and asked them to work hard and try to earn knowledge from every moment of life. He congratulated the students honoured at the function and blessed them for their bright future.
A cultural program was also presented.