An exuberant Indian Classical Dance performance presented by Canada based troupe Khoj
The performance attracts appreciation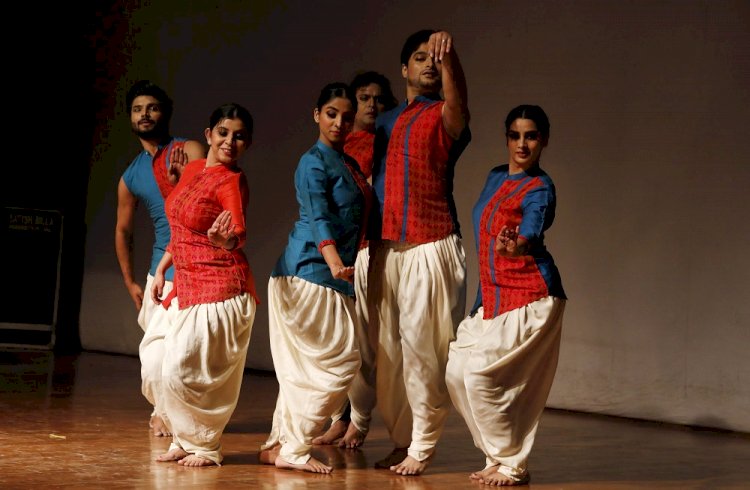 Member of Canada based troupe Khoj perform on stage in Jalandhar.
Jalandhar: An exuberant Indian Classical Dance performance was presented by the Canada based troupe KHOJ at Apeejay College of Fine Arts, Jalandhar. The performance not only attracted appreciation in the form of clapping but also awed the gathering with its enthralling performance.
Principal Dr. Sucharita Sharma welcomed the guests who added an another charm to the beautiful artistic evening. She presented bouquets to honorable guests – Mrs. Puneet Sahota, Mrs. Vaani Vij, Mrs. Purnima Beri and Mr. Sidharth Sharma. She put forth to have these dynamic personalities and art lovers at our college is source of inspiration for our students.
 
She also welcomed Ms. Usha Gupta, Artistic Director KHOJ and said she has done an exemplary work in her life by promoting Indian Classical Dance on foreign lands.
Ms. Usha Gupta has been awarded with honour of Hall of Fame by City of Edmonton and has also been bestowed sponsorship from Canada Council for Arts Edmonton and Alberta Foundation for the Arts.
Hailing from the illustrious family of Founder Chairman of Apeejay Group, Dr. Stya Paul, it can be said with great conviction that Ms. Usha Gupta has gloriously and undoubtedly emerged as the dynamic Ambassador of Indian Cultural Heritage abroad and has done the country proud.
Ms Usha Gupta along with her team presented the search of self from the five elements of Universe - fire, water, earth, space, air through a spectacular choreography.
Principal Dr Sucharita Sharma presented a token of gratitude to the honourable guests - Ms Usha Gupta. 
Dr Sunit Kaur, Head of Department of English presented her vote of thanks appreciating the artists and their one of the kind performance.