Amsa brings sustainable fashion with unveiling of atelier in Hyderabad  
A Sneak Peek into the designer handlooms & bridal couture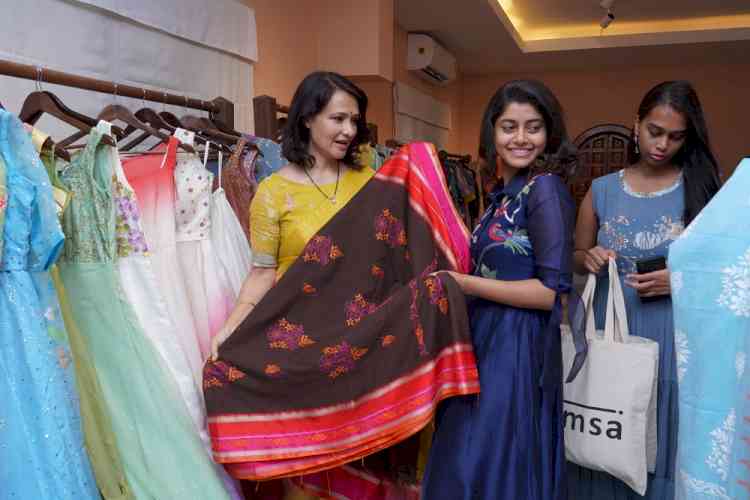 Amala Akkineni inaugurated AMSA sustainable fashion store.


Hyderabad, April 7, 2022: AMSA, the sustainable fashion brand created by Ankitha Veerepalli, opened its first flagship store in Jubilee hills. Amala Akkineni graced the occasion as the chief guest. Amsa is a sustainable clothing brand established in 2016 with an aim of building an ethical fashion house. Amsa is managed by the Mother and Daughter duo Madhavi and Ankitha Veerepalli.
 
Spread over 2700 sq. ft., the store's high façade and curved teak doors gives a traditional welcome. Murals of an orchard on the walls evokes an earthy warmth to the ambience. The Experiential store presents the fashionistas of Hyderabad a one of its kind fashion centre. Here one can be a part of the sustainable ecological revolution in fashion and also revel in the traditional clothing heritage of our country. This amalgamation of style, sustainability and tradition takes a step into the Neo fashion world.
 
Amsa experiments with blending the exquisite weaves of Indian heritage into fully functional modern day clothing. This helps bring handlooms into everyday pret wear which can be both practical and beautiful. Over the years, Amsa's in-house studio has perfected the techniques of alternative handwork, embroidery and detailing, that gives the brand an edge and helps bring fully customised designs that suit the aesthetic of an individual.
 
Founder Ankitha Veerepalli said "We're excited to introduce our brand to Hyderabad. It is a city very close to us and we're looking forward to sharing our designs from our experiential store, especially our work in khadi".
 
Amsa follows a circular economy wherever possible. The studio provides fair wages, good working conditions and equal pay and focuses on quality workmanship and fine finishes. The studio works with handlooms, especially Khadi and other specifically commissioned fabrics for capsule collections.