Amity University Haryana organised one day webinar on "Emerging Trends in Civil Engineering for New India"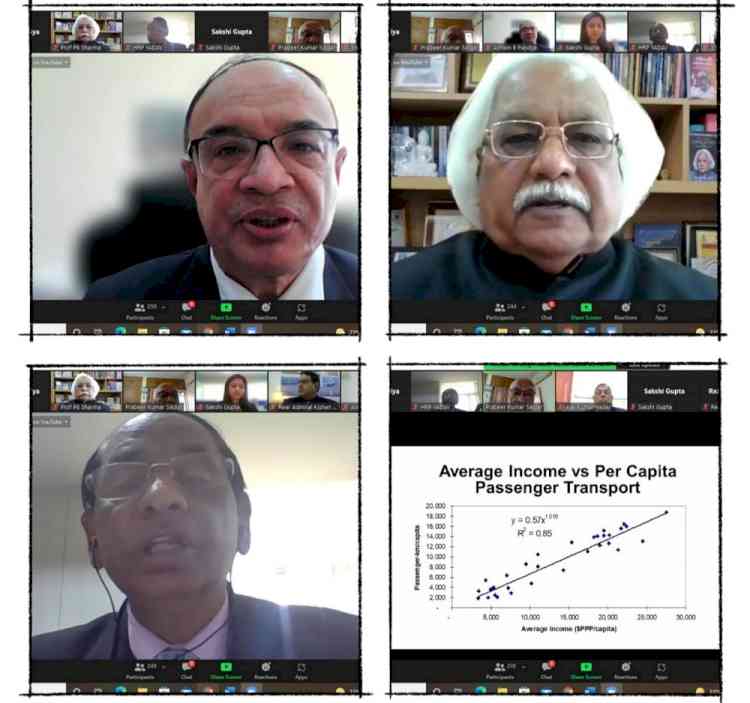 Gurugram, February 25, 2022: Ever since the dawn of civilization, humans have always been fascinated with building structures – from houses to canals to bridges, and more. This makes civil engineering arguably the oldest engineering profession. While advances in the civil engineering space have always progressed incrementally, this last decade has seen the rise of disruptive innovations and concepts that will immensely shape the future of the field. Many of these innovations have started to be adopted, and their immense value is undeniable. This will help the students, researchers and faculties understand the emerging trends of various aspects in Civil Engineering and their importance including sustainability aspects. Keeping this in mind Department of Civil Engineering, Amity University Haryana organized one day webinar on "Emerging Trends in Civil Engineering for New India" today. The webinar witnessed many eminent professional speakers who are at various high positions in the governmental bodies. 
While delivering his lecture Chief Guest, AB Pandya, Secretary General, ICID, Delhi & Former Chairman, CWC said, "Civil Engineering is foundational work, we start the work for the well-being of the society and work hard for it. We as an engineers should concentrate on the importance of Land and Nature in developing anything." He also laid emphasis on drone-based technology, remote sensing, micro-structural analysis of concrete and laser-based camera technology to be the future of Civil Engineering. 
Civilization and Society advances with the advancement of Civil Engineering says Prof P B Sharma while welcoming a galaxy of experts at the National Webinar on Emerging Trends in Civil Engineering for New India. Expressing his delight at the global pride created in India's impressing march on the pathways of accelerated infrastructure development Prof Sharma congratulated the civil engineers, construction technologist, eminent architecture and planning experts and the whole lot of engineering fraternity associated with the management of the mega civil engineering projects. Prof Sharma however express his serious concern about the lack of interest in Civil Engineering by the young, inspired minds of the youth in India who are rushing towards Information Technology and Computer Engineering with the lowest interest in Civil Infrastructure Engineering. 
Civil Engineering and Infrastructure sector has been a major creator and employment sector from the ages that includes Indian Railways, Large Construction Agencies, DMRC, CPWD, CBIP and Water Resource Management agencies. The supply chain impact associated with the civil engineer and infrastructure phenomenal as it began from minds to mind and mind to design and multidisciplinary irrigation. A building is not marble but a promoter of whole lot of engineering including electrical engineer in lighting, wiring, ceiling fan, AC and several other appliances including the most intelligent smart device, it also supports the growth of other sectors including furniture, carpet, curtains and with the growth of civil engineering growth, the habitat that allows whole lot of other development including education, commerce and business grows around the habitat and the townships. 
Prof Sharma however, opined that as we advance in the third decade of 21st century we need to pay a much greater attention to the cause of sustainability and green engineering practices that shall assure the growth of civil engineer and infrastructure sector with little or no harm to the environmental health. 
While delivering his welcome address Dr HRP Yadav, HOD, Civil Engineering, ASET said, "There is a need to modernize the current processes involved in construction industry and bring in the cutting-edge technology in construction."
Prof. (Dr) P K Sikdar, President, ICT & Former Director, CRRI, Delhi, laid emphasis on the role of civil engineering in transportation sector while apprising the gathering.  Shri. Ajay Kumar, Head & Project Coordinator, NHAI EPC Project Execution, gave an elaborated overview of the highway projects and the process of their execution. While Mr Sanjay Pant, DDG, BIS, enlightened the participants about the need for standardization in construction industry. HE also laid emphasis on the green and energy efficient buildings. Rajeev Yadav, IAS (Retd.), Chairman Brahamaputra Board, stated the need for R&D in the water management field and gave an elaborated talk on Integrated Water Management. A Sudhakar, Scientist-F, CPCB also delivered lectures in the one-day webinar on the topic Viable Technology for Control and Management of Water Resouces. Rear Admiral K K Pandey, Director, Amity Staff College and Director HR, AUH, Dr Shalini Bhaskar Bajaj, Director, ASET and Ms Sakshi Gupta, Assistant Professor, ASET with more than 250 faculty, researchers and students participated in the webinar.