Amity students emerge winners in e-poster and virtual skit competitions during 23rd Hepatitis Day Celebrations
A large number of students, teachers and faculty members from various institutions participated with great enthusiasm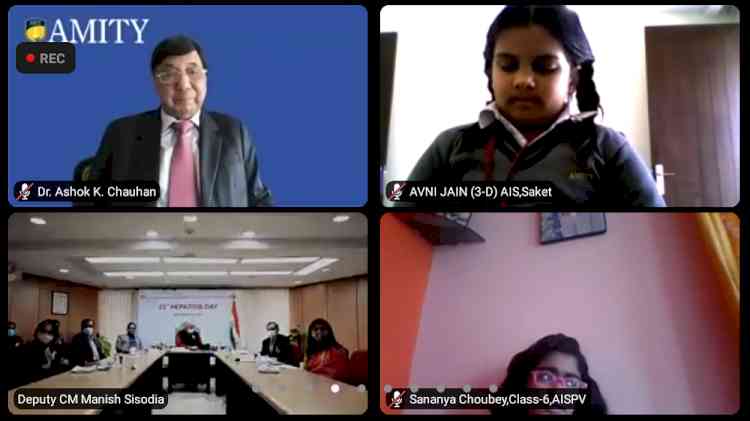 Yashna Taneja, student of class 11 from Amity International School, Saket bagged top position in e-Poster competition organized by Institute of Liver & Biliary Sciences (ILBS) to commemorate 23rdHepatitis Day. To create an awareness about Hepatitis and its prevention, 235 posters were presented online from 9 different Amity International Schools. The Team of AIS, Vasundhara, Sector 6 consisting of 11 students were declared winner with first prize position and the Team of AIS, Pushp Vihar consisting of 5 students got the second position in the virtual skit competition.
 
Both competitions looked to disseminate awareness and impart significance of preventive measures for hepatitis. Two consolation prizes were also won by AIS students of sector 46 Gurugram (from class 3) and Vasundhara Sector 1 (from class 1) in the e-poster competition from among thousands of students who had participated. 
 
The theme for 23rd Hepatitis Day "Viral Hepatitis in COVID Times" wherein a web Lecture on "Hepatitis Awareness for School Children" was organized to promote more active participation of school students. 
 
Mr. Manish Sisodia, Hon'ble Dy. Chief Minister, Delhi also released video on "Hepi School" (Hepatitis Education Program In Schools). He shared the commitments made by Delhi Government towards improving mental & physical health of its citizens and advised the schools to incorporate the same in their curriculum. 
 
Dr. Satyendar Jain, Health Minister, Government of Delhi said that 50% of the adults in the country have fatty liver even though they may not be taking alcohol and is caused due to unhealthy eating habits. He shared that the precautions being taken to avoid corona, including frequent washing of hands, will prevent occurrence of viral hepatitis. He called for the audience to be more cautious about liver health, especially during corona times and take measures to boost their immunity. He also released a video on "ILBS Fights Covid - Activities by ILBS in supporting Delhi Govt in COVID times". 
 
Dr. Ashok. K. Chauhan, Founder President, Amity Education Group, who is the Mentor of the Hepatitis campaign of ILBS, called upon focusing on maintaining good liver health as it is an integral body organ. He shared how following healthy eating habits could help in improving liver health and subsequently the overall functioning of the body & Amity is inculcating these among its students. 
 
Mr. Vijay Kumar Dev, Chief Secretary, GNCTD complimented the students for their participation in the Hepatitis Day celebrations and stated that they have been the biggest force in getting various campaigns of social welfare successfully implemented over the years.  
 
Dr. S.K. Sarin, Director, ILBS shared his views on 'Liver Health in COVID Times' with the vast virtual gathering and the various measures needed to be taken to ensure a healthy liver. He stated that boosting the liver health will play an integral role in making immunity stronger, much required for fighting corona. He asked students to earn their health and urged students to take a pledge to keep their liver healthy and educate others as well. A presentation on 'Viral Hepatitis in COVID Times' was also made by Dr. S.K. Sarin, Dr Ekta Gupta and Dr. Manoj Sharma from ILBS.  
 
Present among various dignitaries were Dr. Prathap. C.  Reddy, Chairman, Apollo Hospital Groups, Prof. V.S. Chauhan, Chairman, NAAC Council.
 
A large number of students, teachers and faculty members from various institutions participated with great enthusiasm.