Amity corona warriors felicitated during Youth Power 2019-20  
Youth Power 2019-20 saw eleven teams from Amity Group of Schools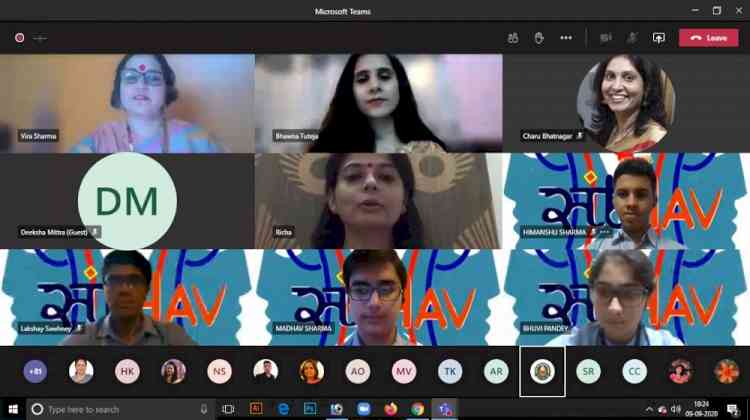 Youth Power team makes online presentation.
Amity's youth newspaper 'The Global Times' celebrated the finale of the 12th edition of 'Youth Power Programme', a year-long social sensitising leadership programme that prepares youth to 'Be the change. Bring change.' The occasion marked the felicitation of 10 Amity school students as the 'Corona warriors' for their bit to help the society in the times of pandemic. From developing a wearable sanitisation band prototype, producing 3-D printed masks, Smart Mask for people with respiratory problems to helping the populace download Aarogya Setu app, singing self-composed anthem on Aarogya Setu app to spread awareness to tying up with several NGO's in an attempt to provide ration kits and masks, these young corona warriors, showed it all the way that youth indeed has the power to be the change and bring change.    
  
Youth Power 2019-20 saw eleven teams from Amity Group of Schools across Delhi/NCR/UP create awareness on myriad issues such as Say no to Junk (AIS VYC Lucknow), Anti-Plastic warriors (AIS Gurugram 43), A step towards fitness (AIS Pushp Vihar), Care for Senior citizens (AIS Vasundhara 6), Towards waste reduction (AIS Mayur Vihar), Global warming (AIS Jagdishpur), Ability in disability (AIS Saket), Creating cancer free society (AIS Gurugram 46), Good Mental health (AIS Vasundhara 1), Gender sensitisation (AIS VKC Lucknow), and Deaf culture awareness (AIS Noida).  
  
The team from AIS Saket was declared the first runners up, while AIS Mayur Vihar bagged second runners up. The other categories under which awards were given were - Best YP Presentation (AIS Gurugram 46), Best Documentation (AIS Pushp Vihar), Best Fund-Raising Model (AIS Vasundhara 1), Best Research Strategy (AIS Vasundhara 6), Best Community Outreach Programme (AIS Jagdishpur), Best Awareness Movie (AIS VKC Lucknow), Best Social Implementation (AIS Gurugram 43), Best Social Media Engagement (AIS Noida), Best Panel Discussion (AIS Mayur Vihar), Best Social Podcast (AIS Saket) and Jury's Special Mention (AIS VYC Lucknow). Award for Best mentor teacher went to Sonia Rao from AIS Vasundhara 1.  
  
Expressing her happiness over another successful year of 'Youth Power' Dr. (Mrs.) Amita Chauhan, Chairperson, Amity Group of Schools shared her various memories of the platform that inspires creativity, research and social change. Praising the hard work done by all the teams, she mentioned how all the Youth Power warriors will build a new India that will bring unprecedented fame to our nation.  
  
Over it's more than a decade long sojourn, the programme has nurtured over 500 ethical leaders and sensitised more than 1 lakh students on various social issues. Concluding with the Youth Power Grand Finale 2019-20, the programme brought the society one step closer to excellence by awarding and recognising change makers.  
   
Keeping the COVID-19 pandemic in mind and the need of social distancing, the grand finale, held in three parts was the first-ever YP finale to be conducted online. But the spirit of the event was still soaring as the programme was judged by an eminent jury comprising Deeksha Mittra, TV host and life skill coach and Richa, who is an alumna of IIT Roorkee, former VP at Morgan Stanley & currently a naturalist. 
 
Jury members of the finale, Deeksha Mittra & Richa, emphasised on the power of the youth and power of the one. They deeply appreciated the fact that power of one and power of youth in Amity students as each one of them showed great sincerity and passion about the social causes each one of them took up. Ms Richa mentioned how it was heartwarming to watch the future generation of our world working on the issues that hurt us and do their best to change the way we live. Ms Deeksha Mittra also talked about how Amitians are playing the role of "torchbearers of change" who created optimistic and realistic solutions to the problems picked up by them.