AMARINDER GOVERNMENT CONCENTRATING ON HOME DELIVERY OF LIQUOR: TARUN CHUGH
Forgets to distribute grains, pulses received from Centre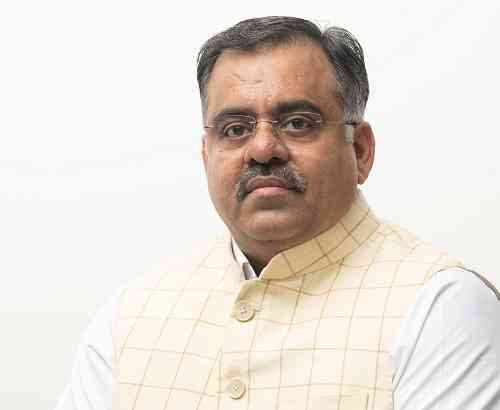 BJP national secretart Tarun Chugh.
Chandigarh: Slamming Capt Amarinder-led Congress government for concentrating on Home Delivery of Liquor and ignoring the distribution of food grains and pulses received from the Centre, the BJP today said this shows the mindset of the Congress leaders who were not bothered about the plight of people facing tough times due to pandemic situation in the state.
 
In a statement here today, BJP national secretart Tarun Chugh said the plain-speak by Union Minister Ram Vilas Paswan has now exposed the lies of the Chief Ministers and his ministers who were finding excuses to shift the blame on Centre.
 
"This is unfortunate and shameful that Punjab government chose to be so insensitive that it could not arrange the distribution of foodgrains supplied by the centre even after 40 days of having received the same. The Centre supplied 70,725 tonnes of foodgrains for free distribution during 1st lockdown and sadly the government could not get it delivered even during the 3rd lockdown.," Chugh said.
 
The Punjab Government has in fact distributed the foodgrains to only 1.38 lakh people which comes to just one percent of 1.41-crore people of the state, he said.
 
The BJP leader said that while the government has an excuse of not having enough workforce on hand for the job, the entire government right from the Chief Minister himself to the lower staff were busy ensuring the success of government's plan of home delivery of liquor.
 
Chugh said the BJP leaders and workers in Punjab observed 1st of May as 'Jago Captain Jago – Modi ka Bheja Ration Baanto' 'Divas' observing a fast but Amarinder and his ministers, sitting in seven-star farmhouses didn't pay heed. 
 
"Figures and statement released by Union Minister Ram Vilas Paswan has revealed that while Prime Minister Narendra Modi-led Centre Govt. was trying its best to ensure that all the people were fed properly during this hour of crisis, there was a government in Punjab which sat on the stock supplied to it and was ensuring home delivery of liquor," he said.