Alumni lecture held at PU
The Department of Zoology, Panjab University, Chandigarh organised an alumni lecture as a part of its initiative to invite prominent alumni of the department for motivating the students of the department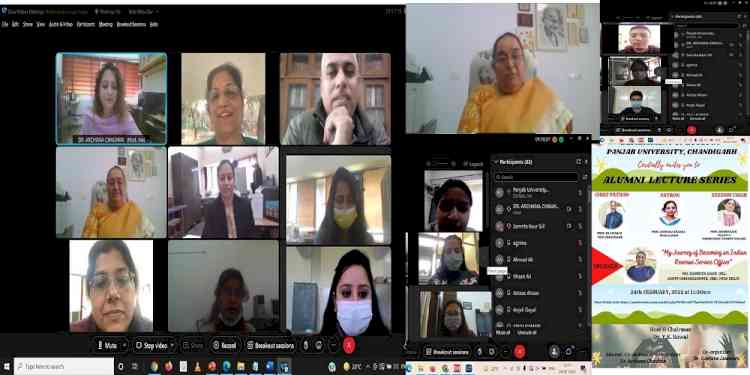 Chandigarh, February 24, 2022: The Department of Zoology, Panjab University, Chandigarh organised an alumni lecture as a part of its initiative to invite prominent alumni of the department for motivating the students of the department.   
            Ms. Samrita Kaur Gill, Joint Commissioner, Directorate of Data Management, Central Board of Indirect Taxes & Customs, New Delhi and an alumnus of the department delivered a talk on "My journey of becoming an Indian Revenue Service Officer" Ms. Samrita did her Bachelors and Masters from the Department of Zoology, Panjab University, Chandigarh. 
            In her talk, Ms. Samrita touched upon the how the curriculum of Zoology has contributed towards her growth and helped in getting through the competitive examinations. She particularly focused on the Classification of the fauna and basic subjects that helped her in securing good marks in general studies. She added that subjects related to Environment, which were part of the curriculum, also helped in preparing for the examinations.
            In the later part of her interaction with students, she focused on the challenges faced by women in administrative services and how she managed to survive with the same. During her talk, she also shared her fond memories of the department and got nostalgic especially for the marine trip of the department.
            Dr. Y.K. Rawal, Chairman of the department said that the idea for this series was put forward by our worthy Vice Chancellor Professor Raj Kumar; who always sought one to one interaction of the students with the departmental alumni.
            Prof. Sukhbir Kaur chaired the session and highlighted that the curriculum of the Department of Zoology has been revised as per the aspirations of the students. She highlighted that over the course of time, the University has evolved and it has its own IAS coaching centre which helps in providing appropriate training to the young aspirants.  More than 100 participants attended the talk and fully interacted with the speaker. Dr. Archana Chauhan co-ordinated the alumni talk.