ALTBalaji and ZEE5 drop motion poster of romantic drama Bebaakee
The story of Bebaakee is based on the lives of Kainaat Sahni and Sufiyaan Abdullah, two contrasting characters with strong personalities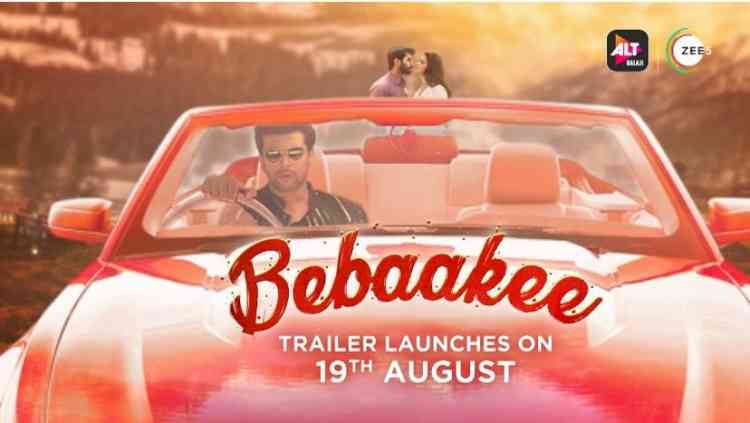 The hype around the ALTBalaji and ZEE5 show Bebaakee was always at a high right from the time the two streaming platforms announced the show. After all, the name has caught everyone's attention and made viewers more curious than ever before. As one counts the days for the romantic drama's release, ALTBalaji and ZEE5 have added to the excitement by releasing the motion poster of the show.
 
One sees the angst inside Sufiyaan played by Kushal Tandon, who is head over heels in love with Kainaat, played by the promising debutant Shiv Jyoti Rajput. What follows later is the passionate romantic expressing his love by narrating a Shayari. The motion poster then takes a twist by showing Imtiyaz, played by Karan Jotwani with Kainaat, that drives Sufiyaan to the edge of a cliff, for he can't see her with anyone else. Has he lost all hope, or will they unite is one of the many questions that'll run in your mind??
 
Along with budding actors like Pratik Sehajpal, Ishaan Dhawan, Mahir Pandhi, Saloni Vora, Aditi Vats, and Juhaina Ahsan, Bebaakee packs a punch with a host of senior actors like Krutika Desai, Suchitra Pillai, Ananya Khare, Mohit Chauhan, Sameer Malhotra, and Indraneel Bhattacharya.
 
The story of Bebaakee is based on the lives of Kainaat Sahni and Sufiyaan Abdullah, two contrasting characters with strong personalities. Kainaat is a simple and happy-go-lucky girl who has her goals in mind while Sufiyaan hails from a rich family. Their love for journalism sees their paths collide leading to the pair feeling a high sense of chemistry between themselves. The puzzle arises when the duo simply can't seem to figure out if this vibe between them is going to be followed by love or hate. What follows next is an unforeseen chain of events that begins to shake Sufiyaan's close-knit family and their business to the very core. More details about the show will be revealed soon with the trailer launching on 19th August. So stay tuned!