All stakeholders must work in unison to combat covid-19: DC Varinder Kumar Sharma
Presides over national webinar on "crisis management amid covid-19 organized by Gujranwala Guru Nanak Khalsa College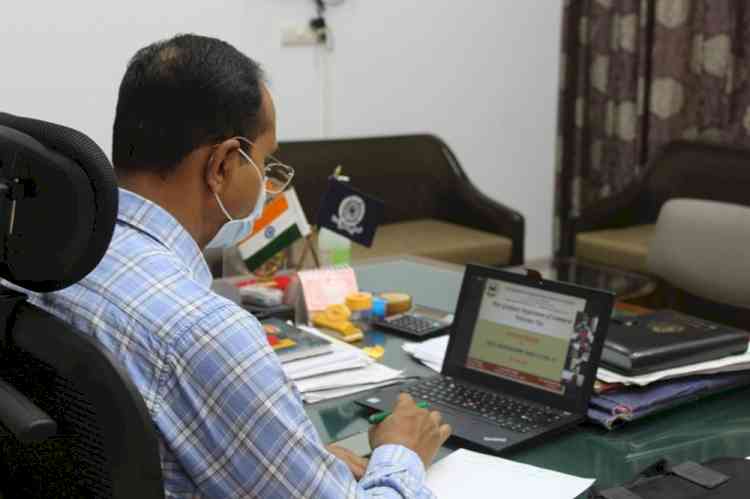 DC Ludhiana Varinder Kumar Sharma presides over national webinar on "crisis management amid covid-19 organized by Gujranwala Guru Nanak Khalsa College.
Ludhiana: Deputy Commissioner Varinder Kumar Sharma said that all stakeholders of the society must work in unison to combat the Covid-19 pandemic effectively which has caused an unimaginable crisis. 
Speaking in a National webinar on 'Crisis Management amid Covid-19' organized by Post- Graduate Department of Commerce of Gujranwala Guru Nanak Khalsa College, the Deputy Commissioner spoke about Covid's deeper effect on global financial scenarios on international economic and trade activities, from services generally to tourism and hospitality, medical supplies, consumers and financial markets to energy, transportation, food, and a range of social activities. 
He also dwelled upon the impact of Covid-19 on the women especially household females, daily wagers besides misinformation about Covid and vaccine among the people. 
Exhorting the educationists participating in the webinar to sensitize the people about the importance of the vaccine, he said through the collaboration of all with the administration, we can turn the tide against this virus.
Dr. Anil Kumar Mittal from University School of Management, Kurukshetra spoke about the issues facing the Indian economy, including low GDP rates, unemployment, inflation, and deterioration of small-scale businesses and industries, effect on medical supplies.
 
Dr. Debabrata Mitra from the Department of Business Administration, North Bengal University, Darjeeling shared his views on the financial markets situation, governments' efforts to stimulate the economy and discussed the new challenges and opportunities which can be tapped in these trying times. 
Dr.Karamjeet Singh, Vice-Chancellor, Jagat Guru Nanak Dev Punjab State Open University discussed problems faced by the global economy and financial markets like Significant reductions in income, a rise in unemployment, and disruptions in the transportation, service, and manufacturing industries are among the consequences of the disease mitigation measures that have been implemented in many countries. 
It has become clear that most governments in the world underestimated the risks of rapid COVID-19 spread and were mostly reactive in their crisis response. As disease outbreaks are not likely to disappear shortly, proactive international actions are required to not only save lives but also protect economic prosperity.
Dr. Arvinder Singh, College Principal thanked the chief guest, resource persons, and the participants for discussing the challenges faced in this health emergency faced by the economy. 
He added that this webinar is an opportunity to utilize the time in learning about these challenges. 
President, Gujranwala Khalsa Educational Council Dr. S. P. Singh, welcomed all the guests and emphasized the need for such seminars and conferences in educational institutions during this pandemic situation. 
Head of P.G. Department of Commerce Prof. Jatinder Kaur introduced the theme of the webinar to the participants and Senior faculty member of the commerce department Dr.Deepak Walia started today's webinar by introducing the resource persons.